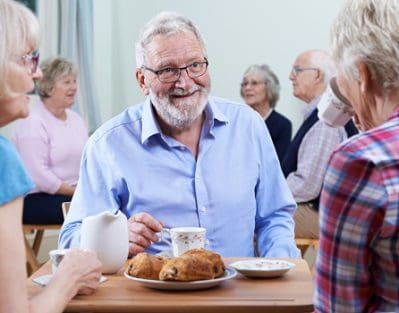 Aging is often considered a term that simply means getting older. While this is one way to look at it, aging can also be broken down into three distinct categories: biological, psychological, and social. All these aspects of aging are related in one way or another, but let's look at each of them individually and how older adults can age well with regard to each one.
1. Biological Aging
This is the type of aging that physically affects the body over time. For example, spinal discs often become less spongy with age, which can contribute to disc-related damage. Biological aging can also contribute to a loss of bone mass, sagging or wrinkled skin, decreased muscle strength, changes with digestion, and hearing and vision problems. Some aspects of biological aging are genetic or not entirely preventable. However, some biological changes associated with age may be minimized with lifestyle habits involving:

• Regular exercise
• A balanced diet that includes fruits, veggies, lean proteins, and low-fat dairy products
• Routine checkups and screenings to spot potential issues as early as possible
• The avoidance of smoking, excessive alcohol consumption, and other unhealthy habits
Seniors can face a variety of age-related challenges. Though some families choose to take on the caregiving duties, there may come a time when they need a trusted elder care provider. Families sometimes need respite from their duties so they can focus on their other responsibilities, and some seniors need around-the-clock assistance that their families are not able to provide. Ambience In-Home Care is here to help.
2. Psychological Aging
Behavior is what characterizes this type of aging. It refers to the adaptive capacities of the brain and the way it handles various cognitive functions and mental processes. Memory is part of this type of aging as well, as is the ability to adapt to various situations and environments. Psychological aging can be affected by conditions like dementia and the natural aging process that goes on within the brain. As with biological aging, psychological aging isn't entirely preventable. That being said, seniors can certainly make an effort to age well psychologically by:

• Eating fatty fish, green leafy veggies, and other brain-friendly foods
• Making an effort to keep learning and remaining engaged to keep the brain stimulated
• Seeking treatment for issues with depression and anxiety sooner rather than later
• Getting sufficient high-quality sleep

Maintaining a high quality of life can be challenging for some seniors, but professional caregivers can help them obtain this goal. Families can trust home care experts to help their elderly loved ones focus on lifestyle choices that increase the chances of living a longer and healthier life.
3. Social Aging
Aging of this nature focuses on social habits related to interactions with everyone from spouses and other family members to friends and other people in society. Biological and psychological issues can play a role in social aging. For example, older adults may not interact socially as much as they once did if they're living with mobility limitations related to age. Social aging also has the potential to be affected by underlying mental health issues such as depression or concerns about cognitive decline, and it's often directly affected by the ability to interact, engage, and communicate. While there are unique circumstances that can affect social aging, seniors can take steps to increase their odds of aging well socially by:

• Finding new ways to socially interact when life situations change
• Exploring opportunities to connect with like-minded seniors by joining clubs or participating in senior-specific activities
• Addressing social fears or concerns before they can have a significant impact
• Turning to family members or considering in-home care to maintain the ability to socialize when assistance is needed 
Aging in place can present a few unique challenges for older adults. Some only require part-time assistance with exercise or meal preparation, while others are living with serious illnesses and benefit more significantly from receiving 24-hour care. Ambience, TX, Ambience In-Home Care are leaders in the elderly in-home care industry for good reason. We tailor our care plans based on each senior's individual needs, our caregivers continue to receive updated training in senior care as new developments arise, and we also offer comprehensive care for seniors with Alzheimer's, dementia, and Parkinson's. Call us today at (469) 573-4213 to learn about our high-quality in-home care services.