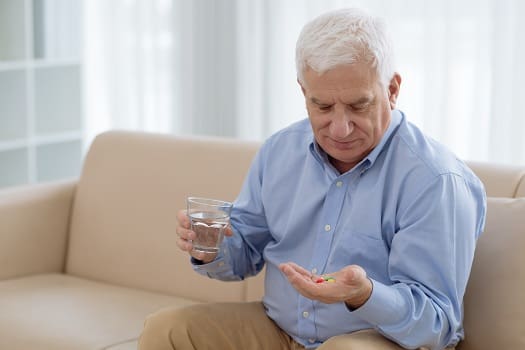 Adopting healthy habits for daily living can boost health and prevent disease. However, many of the "good" habits seniors think are promoting their health are actually having a negative impact. Here are a few "healthy" habits that can have negative effects. 
Eating Low-Fat Foods
Most low-fat foods replace the fat with sugar and salt, producing a product that's more damaging to health than the original version. In fact, science shows some fats can help seniors absorb more nutrients, boost their metabolism, and lower their risk of heart disease. Some types of fats are actually an important part of a healthy diet. For instance, omega-3 fatty acids found in fish, nuts, and avocados are critical for cognitive function, and they can help seniors avoid age-related memory loss. Instead of eating low-fat products, seniors should look for products that have healthy fats, such as those found in olive oil, nuts, coconut, and fatty fish.
Some seniors need assistance preparing nutrient-dense meals. If your aging loved one needs occasional help with bathing, grooming, cooking, or other basic household tasks, or if you need time to attend to important personal matters, reach out to Ambience In-Home Care, a leading provider of live-in and respite care. Ambience seniors can maintain their independence while living at home with the help of our reliable respite caregivers.
Drinking Too Much Water
There's no proven health benefit from drinking a certain amount of water each day, and drinking excessive amounts of water can cause headaches, fatigue, electrolyte imbalances, and kidney damage. Although drinking too much water is difficult to do, a good rule of thumb is to drink one glass of water with each meal and a glass between meals. On hot, humid days or days when your loved one exercises, make sure to increase his or her water intake by several glasses. 
Brushing After Meals
Brushing the teeth gently twice a day is important. However, brushing within 30 minutes of eating can damage tooth enamel. Excessive brushing and brushing with a toothbrush that's too stiff also damages the enamel and causes the gums to recede. 
Taking Supplements
Many people think taking a daily multivitamin plus an assortment of herbal and dietary supplements will boost their health, and seniors are often bombarded with messages urging them to include vitamin supplements as part of a healthy diet. In actuality, there's no evidence to indicate that taking a daily multivitamin will boost health, and there's plenty of evidence showing excessive amounts of vitamins can have a negative impact on health and lead to serious problems, such as liver damage. Supplements should be carefully discussed with a doctor before they're added to a daily regimen.
Seniors who want to remain healthy as they age can benefit in a variety of ways when they receive professional  elder care. garland. Ambience In-Home Care is here to help your loved one accomplish daily tasks, prevent illness, and focus on living a healthier and more fulfilling life.
Drinking Juice
Many people think drinking fruit juice is a good way to increase their fruit intake. However, juicing removes most of the beneficial nutrients from fruit. Several studies have shown people who eat a lot of fruit experience health benefits, but fruit juice itself typically doesn't offer any significant nutritional value.
In addition, fresh juice contains many of the same pathogens as milk, which is why it needs to be pasteurized before it's consumed. Preparing fresh fruit juices at home is generally safe as long as you thoroughly wash the fruits first. Once the juice has been extracted, it must be consumed within five to seven days. 
Hiring a professional caregiver is one of the best ways to help your loved one switch to healthy habits and enjoy a high quality of life. Although it may be challenging to find reliable, highly rated senior care, you can turn to Ambience In-Home Care. Our respite and live-in caregivers are expertly trained to assist seniors with a wide array of important tasks, including cooking, bathing, light housekeeping, and exercise. Call us at (469) 573-4213 today to talk to one of our compassionate Care Managers about our high-quality home care services