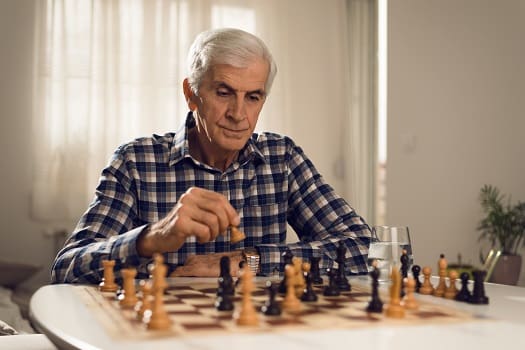 Memory loss is a common symptom after a stroke. Your senior loved one's memory loss may be mild enough that it's barely detectable, or it could be so severe it affects the ability to live independently. Either way, your loved one's prognosis is best when he or she follows a prescribed treatment plan. At home, you can use these games to enhance memory recovery after a stroke.
1. Classic Concentration
At some point, almost everyone has played this traditional card game in which you flip over two cards and try to find matches. This game is known for helping a person learn to remember the location of pictures, but you can also use it to help your loved one recall important names. Try printing out images of people and objects and have your loved one name them each time he or she flips over the cards. In addition to enhancing memory through repetition, this game can also help your loved one learn to remember where objects are located within a certain space.
A professional caregiver can be a wonderful game-playing partner for a senior recovering from a stroke. If your elderly loved one needs help maintaining a high quality of life while aging in place, reach out to Ambience In-Home Care, a trusted provider of Ambience senior care. Our caregivers provide transportation to and from medical appointments and social events, nutritious meal preparation, assistance with daily exercise, and help with everyday tasks like bathing, grooming, and light housekeeping.
2. Crosswords
Brain teasers such as crosswords and sudoku are great for building recall skills. Doing a crossword together can help your loved one tap into his or her long-term memory and reasoning abilities. Try doing a simple one in the beginning, and you can gradually switch to harder crosswords as your loved one's memory gets stronger.
3. Online Brain-Training Games
There are many different apps and video games that focus on developing memory skills. Try one that's designed specifically for stroke survivors and senior citizens. Alternatively, you could just play a classic video game that requires strategy and multitasking. Trying to do several things simultaneously can help your loved one build his or her working memory.
Certain age-related conditions can make it more challenging for seniors to age in place safely and comfortably, but Ambience live-in care experts are available around the clock to help seniors manage their health. Whether your loved one is living with dementia or is recovering from a stroke, you can trust the professional live-in caregivers from Ambience In-Home Care to enhance his or her quality of life.
4. Chess
Many older adults enjoy playing games such as checkers and chess. These classic games require seniors to remember rules they learned long ago, and they also encourage aging adults to think on their feet. Your loved one must use memory to recall techniques to devise a strategy for his or her moves. Keep in mind your loved one may get frustrated in the beginning if he or she isn't able to match his or her past abilities. Therefore, you may want to keep games short or have your loved one play with someone who isn't an expert at the game.
5. Shopping Challenge
Some of your daily activities can easily be turned into fun games that build your loved one's memory and help him or her return to more independent living. Try making a short grocery list for your loved one to memorize before going to the store and see how many items he or she can check off. You can also have your loved one mentally add up prices or try to remember a favorite recipe as you shop.
Caring for a senior loved one can be challenging for families who don't have expertise or professional training in home care, but this challenge doesn't have to be faced alone. Family caregivers can turn to Ambience In-Home Care  for the help they need. We provide high-quality live-in and respite care as well as comprehensive Alzheimer's, dementia, stroke, and Parkinson's care. To create a customized in-home stroke care plan for your loved one, call Ambience In-Home Care at (469) 573-4213 today.