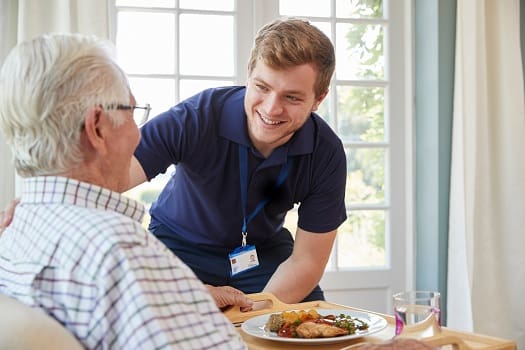 Respite care is a temporary service that benefits seniors and their caregivers. Seniors can remain in comfortable environments while receiving high-quality care based on their individual needs. Here are some of the ways seniors can benefit from receiving respite care.
Human Interaction
Living alone can put seniors at higher risk for boredom and isolation. The loneliness caused by the lack of human interaction could also lead to depression. However, respite care allows seniors to interact with professional caregivers, whether they're attending social activities, working in the garden, or doing laundry together. Friendly conversations and occasional visits with a respite caregiver could provide a meaningful connection and boost your parent's overall health.
Although it may be challenging to find reliable, highly rated home care, you can turn to Ambience In-Home Care. Our respite and live-in caregivers are expertly trained to assist seniors with a wide array of important tasks, including cooking, bathing, light housekeeping, and exercise.
Faster Recovery
Your loved one may have experienced an accident or illness and need assistance while recovering. The cost-efficient option would be respite care because your loved one doesn't have to commit to time or services he or she doesn't need. If your loved one only uses respite care a few hours a week while you're at work or out of town, he or she will only be billed for those services.
Keeping care costs down allows your loved one to pay for medical devices or services he or she may need during the recovery process. Receiving care at home can also reduce the risk of being exposed to harmful bacteria that might be present in a nursing home or rehabilitation center, preventing infections and speeding up the recovery process.
Family caregivers need to care for their own wellbeing. If you're caring for an aging loved one and are feeling overwhelmed, consider hiring a professional caregiver to provide respite care. Richardson families who want to prevent burnout can turn to Ambience In-Home Care. One of our professional caregivers can assist your loved one at home while you take a nap, go to work, run errands, or go on vacation.
Independence
Many seniors prefer to live at home alone and do as much as they can on their own. Maintaining their independence can boost their quality of life and increase their longevity. With respite care, your parent can receive assistance with basic tasks such as cooking, cleaning, and running errands.
A respite caregiver can check in on your loved one once a week or as often as you would like. However, your loved one will maintain control over his or her life, choosing which tasks he or she receives assistance with and how much help he or she needs. Although respite caregivers monitor safety, they also promote independence and only step in when needed.
Flexibility
If you must leave town on short notice, your loved one doesn't need to go to an adult day care facility or the home of another family member. Your parent can stay at home while you're away on business or a personal trip.
Respite care suits the needs of seniors and their caregivers, making it a practical option. The service is available on a day-to-day basis, meaning seniors don't have to commit to long-term contracts. If they need care for several hours a day or an overnight stay from time to time, that's possible with respite care. Having flexibility can prevent your loved one from worrying about where he or she will stay while you're away.
A trained professional caregiver can be an extremely valuable member of your caregiving team. There are a variety of age-related health conditions that can make it more challenging for seniors to live independently. However, many of the challenges they face can be easier to manage if their families opt for professional elder care. Richardson families can rely on expertly trained caregivers to keep their loved ones safe and comfortable while aging in place. If you need compassionate professional care for your loved one, call Ambience In-Home Care today at (469) 535-6825.