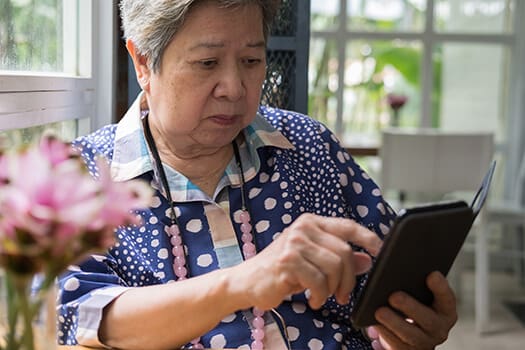 Seniors with dementia often lose the ability to do some of their favorite activities. However, your aging loved one still needs things to do that fill his or her time and provide a sense of accomplishment. Although activities for seniors with dementia should be simple enough for them to manage mostly on their own, they should also have a purpose. Adding a mix of these meaningful activities to your loved one's day can keep him or her busy and provide a sense of purpose.
Playing with Pattern Blocks or Tangrams
These simple sets of shapes can be used to make all kinds of things. Manipulating the shapes sparks creativity in people with dementia, and you can also give your loved one premade cards that show pictures to make. Recreating these pictures strengthens spatial awareness, and it's a great activity to do with the grandkids so there's also a social element to enjoy.
Dementia can be challenging for seniors to manage, but they can maintain a higher quality of life with the help of professional dementia care. Ambience seniors can benefit greatly from the Cognitive Therapeutics Method (CTM), an activities-based program designed to promote cognitive health and delay the onset of dementia. CTM is included at no additional charge with any of the in-home care plans provided by Ambience In-Home Care.
Using a Brain Training App
Many different apps that provide purposeful activities for seniors with dementia can be downloaded to smartphones. Although some games are just designed for simple mindless fun, others are especially effective for helping seniors with dementia retain their memory. Look for an app that advertises its usefulness for brain training and show your loved one how to use it.
Matching Socks
Folding towels has long been a go-to activity for caregivers who want their loved ones to feel useful. However, seniors may get bored with folding towels, and it helps to have some other household chores they can do. Grab some colorful patterned socks your loved one can match up as if he or she were helping out with laundry. Matching socks requires using the brain to process visual input, and your loved one will enjoy knowing he or she can contribute to the family.
Caring for a loved one with dementia can be challenging, but compassionate help is available. If your senior loved one has been diagnosed with a serious condition and needs help with tasks like meal prep, transportation, bathing, and grooming, reach out to Ambience In-Home Care, a leading provider of elderly home care families can trust. We also offer comprehensive care for seniors with dementia, Alzheimer's, and Parkinson's.
Untying Knots
Take a few short pieces of rope and tie knots in them. Then ask your loved one to help you untie the knots. Untying knots can be a meaningful activity for a senior who is confined to a bed or chair. The process of untying the knots involves problem-solving skills, spatial awareness, and the ability to focus on a task for a long period. If your loved one gets frustrated, try tying the knots more loosely. You can also increase the challenge by tying multiple knots or making them tighter.
Putting Together Family Photo Puzzles
Doing puzzles is a great way to stimulate the brain. You can make this activity more meaningful by making your own puzzles out of pictures of your family doing special things together. Putting these homemade puzzles together encourages your loved one to remember special events, and he or she may enjoy doing this activity over and over again.
Highly trained caregivers with experience in caring for seniors with dementia can be a fantastic resource for family members. Families looking for top-rated Ambience elder care providers can reach out to Ambience In-Home Care. From respite care to specialized Alzheimer's, dementia, stroke, and Parkinson's care, there are many ways we can make life easier for seniors and their loved ones. If your loved one needs professional home care, Ambience In-Home Care is here to help. Call one of our dedicated Care Managers today at (469) 573-4213 to learn about the high quality of our in-home dementia care services.