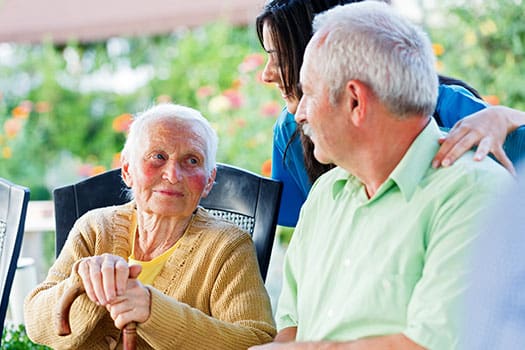 It is best to start talking about your senior loved one's living arrangements and care options before his or her health begins to decrease. You can encourage your loved one to opt for in-home care by explaining how it works and discussing its benefits. Here are some of the reasons your loved one will appreciate in-home care. 

1. Offers Personalized Care
With in-home care, seniors don't need to share caregivers. Instead, they receive the one-on-one support they need. Receiving personalized care could lower your loved one's risk of accidents such as slips and falls. 
Many seniors prefer aging in place over moving to an assisted living facility. If your senior loved one needs assistance to remain safe and comfortable while living at home, reach out to Ambience In-Home Care, a leading Amnbience, Texas, home care agency. Our dedicated in-home caregivers can assist with meal prep, bathing and grooming, exercise, medication reminders, and many other important tasks.

2. Provides Dietary and Nutritional Support
It can be difficult for family caregivers to cook healthy meals for their senior loved ones each day, especially those who work full-time jobs and have children to care for. However, in-home caregivers can prepare nutritious meals that lower the risk of diabetes and boost mental and physical health in older adults. Your loved one can also cook his or her own meals under the supervision of a professionally trained caregiver. 
If your aging loved one needs occasional help with bathing, grooming, cooking, or other basic household tasks, or if you need time to attend to important personal matters, reach out to Ambience In-Home Care, a leading provider of live-in and respite care. Ambience seniors can maintain their independence while living at home with the help of our reliable respite caregivers.

3. Saves Money

When compared to a hospital or rehabilitation center, in-home care is typically the most affordable option. Your loved one can receive customized care based on his or her current needs and abilities, preventing you from spending money on services he or she doesn't need. The money saved can pay for your loved one's other healthcare costs, as well as vacations and social activities. 

4. Assists with Medication Management

Most seniors are taking multiple medications due to age-related issues, and managing several prescriptions can be difficult. However, failing to take the right dosage at the right time could cause the prescription to become ineffective. Improper medication management could also lead to overmedication and death. With in-home care, you can have peace of mind knowing your loved one is receiving assistance with medication while you are away. 

5. Includes Transportation

Driving to the doctor, grocery store, local pharmacy, or community events may not be easy for seniors due to cognitive decline or other health issues. An in-home caregiver can ensure your loved one has transportation to run errands. On days your loved one doesn't feel like leaving the house, an in-home caregiver can run the errands for him or her. 

6. Promotes Companionship

It is important to remain socially active in the golden years. However, many seniors isolate themselves due to cognitive decline and other health issues. With in-home care, your loved one can receive the companionship he or she craves. In-home caregivers also encourage seniors to go out of the home and interact with others in the community. 

7. Facilitates Aging in Place
Living in the comfort of home can help seniors age gracefully and enhance their cognitive health. Seniors will be surrounded by their personal belongings, and they can continue with their normal routine, regardless if it includes jogging at the local park, drinking coffee on the front porch, or having lunch with the neighbors.
If your elderly loved one needs help maintaining a high quality of life while aging in place, reach out to Ambience In-Home Care, a trusted provider of Ambience home care. Services our caregivers provide include transportation to and from medical appointments and social events, nutritious meal preparation, assistance with daily exercise, and help with everyday tasks like bathing, grooming, and light housekeeping. To create a comprehensive in-home care plan for your elderly loved one, give us a call at (469) 573-4213 today.