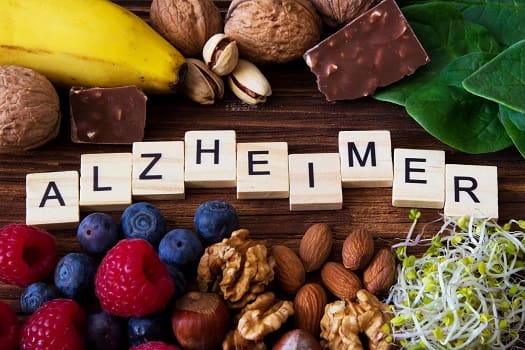 The MIND diet isn't going to cure Alzheimer's, but it can mitigate some of the most common symptoms of this debilitating disease. Dr. Martha Morris is the nutritional epidemiologist who created the MIND diet, and she has helped many seniors with Alzheimer's over the last few years. This diet emphasizes nutrient-dense foods that are excellent for cognitive health as well as physical wellbeing. Here's a closer look at why this diet has become so popular among seniors with Alzheimer's and their doctors. 
Alzheimer's & Cognitive Deterioration
Alzheimer's disease is a progressive disorder that negatively impacts cognitive abilities. This condition slowly kills brain cells over the course of time, and the body isn't able to repair or replace those cells quickly enough. 
Some of the most common symptoms of this disorder include memory loss, poor decision-making skills, and difficulty completing everyday tasks. While researchers are working on many promising treatments for Alzheimer's, there's currently no cure, which is why many experts suggest making sweeping lifestyle changes to minimize or reverse some of the most common symptoms. 
If your elderly loved one is living with Alzheimer's and needs help managing the symptoms, turn to Ambience In-Home Care, a leading provider of Alzheimer's care. Richardson seniors can rely on our caregivers to provide activities that promote cognitive health and delay the onset of Alzheimer's disease. Our caregivers also encourage seniors to engage with others in an enjoyable way and help them build new routines to look forward to.
A Look at the MIND Diet
MIND stands for Mediterranean-DASH Intervention for Neurodegenerative Delay, and this diet was designed specifically for seniors with dementia and Alzheimer's. The MIND diet encourages older adults to eat a wide variety of fresh vegetables, berries, fish, and nuts. 
Those who are sticking to the MIND diet also need to cut out all processed foods. Some of the other foods to avoid while on the MIND diet include red meat, cheese, and margarine. Dr. Morris also encourages having one glass of red wine per day while following this diet, but seniors should always check with their doctors before consuming any alcohol. 
A professional caregiver with training in nutrition can be a wonderful source of information and encouragement as your loved one adopts new healthy habits. Maintaining a high quality of life can be challenging for some seniors, but professional caregivers can help them attain this goal. Families can trust senior home care experts to help their elderly loved ones focus on lifestyle choices that increase the chances of living longer and healthier lives.
Benefits of the MIND Diet
Quite a few studies of the MIND diet have been conducted, and the research has revealed this diet can enhance many different aspects of a senior's health. Several of the foods included in the MIND diet can reduce inflammation in the brain and minimize oxidative stress. 
This diet is also a great option for those who would like to lose some weight. By cutting processed foods out of the diet, it will be much easier to shed unwanted pounds. Over the course of a few months, the MIND diet might also help seniors reduce their cholesterol and blood pressure levels. 
Other Lifestyle Changes to Make
When it comes to combating the symptoms of Alzheimer's, most seniors will need to make sweeping lifestyle changes. In addition to following a nutritious diet, seniors with Alzheimer's should also challenge their intellectual abilities. Playing board games, learning to play an instrument, and socializing with peers can trigger the production of healthy new brain cells. Exercise plays an important role as well, and seniors should try to be physically active for at least 30 minutes a day. 
Professional caregivers with training and expertise in nutrition and methods of cognitive stimulation can be a wonderful asset for seniors with Alzheimer's. Not every senior has the same care needs, which means they don't all need the same type of home care service. Richardson families can rely on Ambience In-Home Care to provide individualized care plans to meet their elderly loved ones' unique care needs. Our caregivers help seniors focus on healthy lifestyle habits such as eating nutritious foods, exercising regularly, and maintaining strong social ties, and we provide mentally stimulating activities that can stave off cognitive decline and delay the onset of dementia. Reach out to one of our Care Managers today at (469) 535-6825 to learn more about our high-quality home care services.