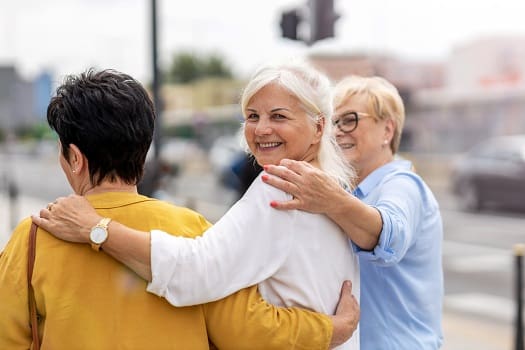 Older adults often establish goals as a means of accomplishing specific tasks within given time frames. Once accomplished, the completed goals provide a sense of satisfaction. There are several goals seniors should consider setting to live healthier, happier lives.
1. Eat Healthier
To remain healthy, seniors need to eat a variety of foods daily to obtain optimal nutritional benefit. However, the types of foods selected must be rich in nutrients without adding an excess amount of fat, salt, and sugar. Seniors should consider setting a goal of including nutrient-dense foods in each meal.
A professional caregiver can be a wonderful source of support and information when it comes to getting proper nutrition. Maintaining a high quality of life can be challenging for some seniors, but professional caregivers can help them attain this goal. Families can trust homecare experts to help their elderly loved ones focus on lifestyle choices that increase the chances of living longer and healthier lives.
2. Increase Physical Activity
Sedentary seniors are more likely to develop cardiovascular disease, dementia, diabetes, and osteoporosis. Without a sufficient level of physical fitness, the musculoskeletal system weakens, which leads to balance and flexibility issues. Older adults are then more prone to falls and fractures. Regardless of age or mobility, seniors should strive to get 150 minutes of exercise every week. An initial goal might involve walking around the block five days a week. Once the goal is met, the time should be increased for greater benefits.
3. Exercise the Brain
Maintaining cognitive health requires regularly challenging mental functions. Engaging in regular cognitive activities encourages neurons to create more paths of communication between the cells. Seniors should take time each day to exercise their brains. For instance, they can complete puzzles or read novels. Learning a new skill exercises the brain that much further, as more regions of the brain receive a workout.
4. Lose Weight
The combination of eating unhealthy foods and being sedentary often leads to becoming overweight. Overweight and obese seniors are more likely to develop diabetes, cardiovascular conditions, and musculoskeletal weakness. By altering their eating habits and becoming more physically active, older adults can lose excess weight and enjoy a healthier lifestyle.
5. Socialize More
Staying in touch with friends and loved ones provides seniors with many health benefits. Participating in conversations with other people protects cognitive health. Having a social network encourages older adults to keep abreast of current events so they have the ability to discuss topics with others. Seniors who have regular contact with family and friends are more likely to be emotionally healthy.
For families living in Garland, respite care can be a wonderful solution when their aging loved ones need companionship and socialization a few hours a week or just need minor assistance with daily household tasks. At Ambience In-Home Care, we thrive on helping seniors maintain their independence while living in the comfort of home.
6. Sleep Better
Older adults need seven to nine hours of sleep each night. Restful sleep provides the body with the chance to unwind and repair itself. Seniors who are having difficulty falling or staying asleep should evaluate possible causes and make corrections as needed.
7. Make Time to Laugh
Seniors can enjoy some good laughs by watching comedy TV shows or movies. Humor might also be found in sharing stories with others. The act of laughing relaxes the body while alleviating anxiety and stress. During humorous moments, the brain releases dopamine and endorphins, which elevate mood and reduce physical pain.
A trained professional caregiver can be an ideal resource when you're trying to help your loved one lead a healthier lifestyle. Not every senior has the same care needs, which means they don't all need the same type of home care. Garland families can rely on Ambience In-Home Care to provide individualized care plans to meet their elderly loved ones' unique care needs. Our holistic Balanced Care Method was designed to help seniors focus on healthy lifestyle habits such as eating nutritious foods, exercising regularly, and maintaining strong social ties, and our Cognitive Therapeutics Method offers mentally stimulating activities that can stave off cognitive decline and delay the onset of dementia. Reach out to one of our Care Managers today at (469) 573-4213 to schedule a free in-home consultation.