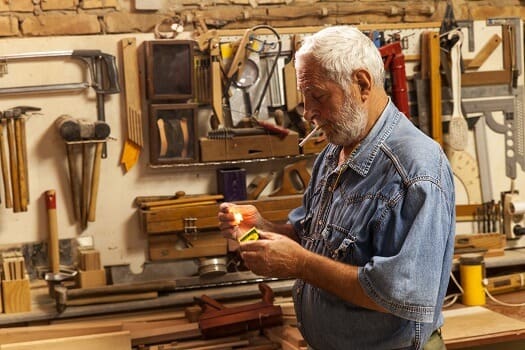 It's well established that smoking causes a myriad of illnesses, including cardiovascular disease, lung disease, circulatory disorders, heart attacks, strokes, and certain cancers. Even if your elderly loved one has smoked for years, there are still benefits of quitting now. Here are some reasons seniors should quit smoking immediately.
Lower Blood Pressure
Older adults are more susceptible to hypertension than their younger counterparts. Smoking can exacerbate existing high blood pressure or lead to a new diagnosis of hypertension. Quitting smoking now could have positive effects on your loved one's blood pressure. By lowering blood pressure, your parent can lower the risk for heart attacks, blood clots, and stroke. Normal blood pressure decreases the risk for certain illnesses, and it may also add years to your loved one's life.
Quitting cigarettes is not the only way older adults can boost their health. Seniors who want to remain healthy as they age can benefit in a variety of ways when they receive professional home care. Ambience, Texas, Ambience In-Home Care is here to help your loved one accomplish daily tasks, prevent illness, and focus on living a healthier and more fulfilling life.
Ensure Better Breathing
Cigarette smoke contains tar, nicotine, and other toxins that can diminish lung capacity and make it difficult to breathe. Coupled with preexisting conditions such as chronic obstructive pulmonary disease, cardiovascular disease, asthma, and obesity, smoking may increase the need for supplemental oxygen. Because smoking can lead to exercise intolerance, it's crucial that your loved one quit immediately. When pulmonary function is at optimal levels, your parent may be able to tolerate exercising better. 
Older adults who need help exercising should consider professional in-home care. If your senior loved one needs hourly or live-in care, Ambience Ambience In-Home Care can help. Our caregivers can assist with exercise and mobility, prepare nutritious meals, provide timely medication reminders, and help with a wide array of other important daily tasks.
Reduce Cancer Risk
Quitting smoking reduces the risk for developing cancers of the lung, throat, mouth, pancreas, and bladder. If your loved one has an existing malignancy, quitting smoking may result in a better prognosis. Giving up cigarettes also alleviates several cancer-related symptoms such as coughing, shortness of breath, congestion, and gastrointestinal issues.
Stimulate Appetite
Cigarette smoking leads to diminished senses of taste and smell, which can dramatically decrease appetite. Quitting smoking may restore the senses of taste and smell, allowing your loved one to eat more. Smoking can also speed up the metabolism, which may lead to weight loss. If your loved one is losing weight because of cigarette smoking, make an appointment with his or her healthcare provider. The doctor can recommend effective smoking cessation therapies to help your parent quit smoking if he or she is unable to do so alone.
Encouraging older adults to let go of bad habits can be a challenging task. Families who find it difficult to care for their aging loved ones without assistance can benefit greatly from professional respite care. Ambience, Texas, family caregivers who need a break from their caregiving duties can turn to Ambience In-Home Care. Using our proprietary Balanced Care Method, our respite caregivers can encourage your loved one to eat well, exercise regularly, get plenty of mental and social stimulation, and focus on other lifestyle factors that promote longevity. To learn about our high-quality in-home care options, give us a call at (469) 573-4213 today.