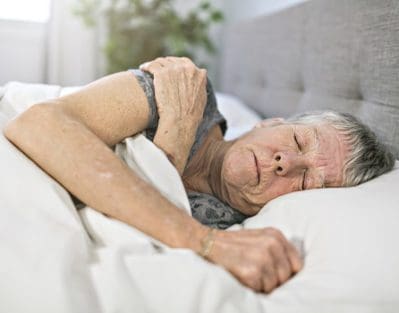 Seniors often take naps during the day, but there comes a point where you may begin to wonder if your elderly loved one is sleeping too much. Daytime sleepiness can be caused by many different things. Observing your loved one's behavior can help you determine whether or not the increased need for sleep indicates a health problem.
Check the Possible Side Effects of Medications
Fatigue is a common side effect of many medications a senior might need to take regularly. Read the labels on your loved one's medications to find out if this might be the cause of his or her excessive sleepiness. If so, you can talk to the doctor to see if the medication needs to be adjusted. You'll also want to make sure your loved one doesn't drive or operate heavy machinery when taking a medication that makes him or her tired.
Pay Attention to Nighttime Habits
Sleep disruptions are a common complaint among seniors. Your loved one may wake up frequently during the night due to painful joints or a need to use the restroom. If this is the case, your loved one's body is trying to catch up on sleep during the day. 
If your loved one is excessively tired or sleepy during the day, he or she may need assistance with the tasks of everyday living. Not every senior has the same care needs, which means they don't all need the same type of home care. You can rely on Ambience In-Home Care to provide individualized care plans to meet your elderly loved one's unique care needs. Our holistic Balanced Care Method was designed to help seniors focus on healthy lifestyle habits such as eating nutritious foods, exercising regularly, and maintaining strong social ties, and our Cognitive Therapeutics Method offers mentally stimulating activities that can stave off cognitive decline and delay the onset of dementia.
Look for Other New Symptoms
Daytime sleepiness accompanied by other new symptoms could be indicative of a health problem. For instance, a senior with low blood sugar may feel tired during the day and also complain of having headaches or feeling dizzy. Fatigue with a fever or chills could be a sign your loved one has a cold or the flu.
Schedule a Comprehensive Exam
Some causes of daytime sleepiness are only detectable with a complete physical exam. Seniors with respiratory and cardiovascular diseases often feel more tired than normal during the day. Your loved one might not be getting enough oxygen to his or her vital organs, or he or she could be developing malnutrition. The physician can perform tests to identify a potential underlying cause for the fatigue.
There are a variety of age-related health conditions that can make it more challenging for seniors to live independently. However, many of the challenges they face can be easier to address if their families opt for professional elder care. You can rely on expertly trained caregivers to keep your loved one safe and comfortable while aging in place.
Talk about Mental Health
Depression is another health condition that could cause your loved one to sleep more during the day. Your loved one may try to sleep in to avoid having to wake up or say he or she is too tired to participate in activities you suggest. Depression in seniors is treatable with professional care.
Consider the Possibility of Boredom
Take a look at your loved one's daily routine to determine if there are times when he or she may be so bored that going to sleep just feels better than staying awake. Your loved one may be bored if he or she spends a lot of time at home alone or if you're generally so busy with other tasks that you cannot keep him or her entertained. A home caregiver can keep your loved one occupied with fun and entertaining activities that stimulate the mind and help him or her stay awake. 
Aging in place can present a few unique challenges for older adults. Some only require part-time assistance with exercise or meal preparation, while others are living with serious illnesses and benefit more significantly from receiving 24-hour care. Ambience, TX, Ambience In-Home Care are leaders in the elderly in-home care industry for good reason. We tailor our care plans based on each senior's individual needs, our caregivers continue to receive updated training in senior care as new developments arise, and we also offer comprehensive care for seniors with Alzheimer's, dementia, and Parkinson's. For more information about our flexible, customizable home care plans, call one of our compassionate Care Managers today at (469) 573-4213.