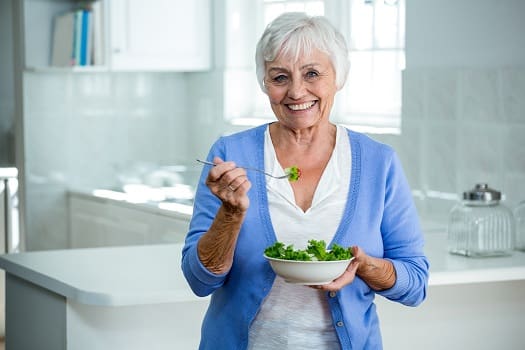 In 2011, approximately 43 percent of women diagnosed with breast cancer were over age 65. The risk of developing breast cancer increases with age, but there are a few measures elderly women can take to stave off the condition. Here are a few tips to help your senior loved one prevent breast cancer and boost her overall health.
1. Eat Vegetables & Fruits
The phytochemicals found in fruits and vegetables can fight off breast cancer. If your loved one consumes vegetables and fruits in their raw form on a regular basis, her risk of developing breast cancer can be greatly reduced. Heating up these foods destroys most of the phytochemicals. Some fruits and vegetables that can prevent breast cancer include: 
Dark leafy greens (spinach, collards, and kale) 

Citrus fruits 

Berries 

Cherries

Carrots 

Tomatoes

Cruciferous vegetables (cauliflower, cabbage, broccoli, and Brussels sprouts)
Seniors who want to remain healthy as they age can benefit in a variety of ways when they receive professional home care service. Ambience In-Home Care is here to help your loved one accomplish daily tasks, prevent illness, and focus on living a healthier and more fulfilling life.
2. Avoid Alcohol
Levels of estrogen and other hormones associated with breast cancer can spike due to alcohol consumption, and alcohol also damages cell DNA, which further increases the risk of breast cancer. Drinking even two cups of wine, beer, or other alcoholic beverages a day can put your loved one in danger of developing this disease.
3. Stay Physically Active
Exercising can help your loved one maintain a healthy weight, which reduces the risk of developing breast cancer. Being active controls hormone levels, including estrogen, which fuels the development of breast cancer. The ideal exercise regimen for senior women involves moderate aerobic activity or walking exercises at least three days per week.
Senior women who need assistance with exercise, managing daily tasks, or making healthier lifestyle choices can benefit from professional in-home care. In Garland, homecare agencies can be a great boon to seniors. With the help of the caregivers at Ambience In-Home Care, your aging loved one can lead a happier and healthier life. Our caregivers encourage seniors to eat nutritious foods, exercise and socialize regularly, and focus on other lifestyle factors that increase life expectancy.
4. Quit Smoking
The carcinogens found in tobacco smoke pass through the alveolar membrane and into the bloodstream, with the possibility of being transported into the breast through plasma lipoproteins. If this situation occurs, your loved one's risk of breast cancer may increase. To prevent breast cancer, your loved one will need to stop smoking and avoid secondhand smoke as well. 
Aging adults can reduce their risk of cancer and other diseases and enjoy a high quality of life by receiving in-home care. Aging in place can present a few unique challenges for older adults. Some only require part-time assistance with exercise or meal preparation, while others are living with serious illnesses and benefit more significantly from receiving live-in care. Garland, TX, Ambience In-Home Care are leaders in the elderly in-home care industry for good reason. We tailor our care plans based on each senior's individual needs, our caregivers continue to receive updated training in senior care as new developments arise, and we also offer comprehensive care for seniors with Alzheimer's, dementia, and Parkinson's. Call one of our friendly Care Managers today at (469) 573-4213 to learn more about our customized care plans.