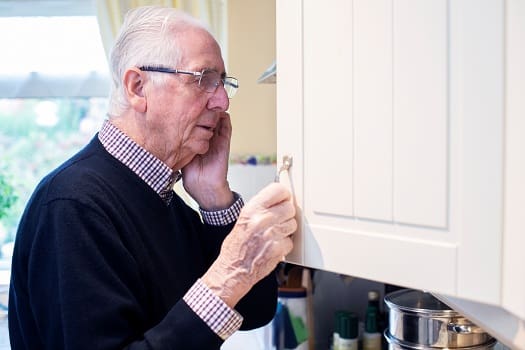 As adults get older, they may experience a variety of age-related challenges. However, some changes may signal the onset of Alzheimer's disease. By recognizing the symptoms of Alzheimer's disease early, you can help your senior loved one boost his or her cognitive health and enjoy a high quality of life.
1. Loss of Memory
Memory loss is one of the most common symptoms of Alzheimer's disease, and it initially impacts short-term memory. However, in time, seniors also lose long-term memory. Older adults may forget information they heard moments earlier or face difficulty recalling what they recently told someone. They may also ask the same questions over and over again and have difficulty remembering dates and times. Seniors with Alzheimer's disease often forget past events, and they may become dependent on Post-it notes or information stored in mobile devices to trigger their memories.
For reliable Alzheimer's care, Richardson families can turn to Ambience In-Home Care. We are a leading provider of professional memory care designed to help seniors maintain a higher quality of life. In addition to Alzheimer's care, we also provide comprehensive dementia, Parkinson's, and stroke care. From revolutionary care programs to compassionate and dedicated caregivers, we can meet all of your Alzheimer's care needs.
2. Diminished Problem-Solving Skills
In the early stages of Alzheimer's disease, information received by hearing or seeing something soon loses its meaning. Even recipes used for years may now seem confusing and difficult to follow. Performing detailed tasks can become challenging and cause frustration and anxiety. Seniors may forget to pay their bills, and they may also have difficulty balancing and maintaining a checking account. Mathematical equations may no longer make sense to them. 
3. Challenges with Routine Tasks
The memory loss caused by Alzheimer's disease can affect all aspects of an older adult's life and impact daily activities. During the first stage of Alzheimer's disease, seniors who drive may suddenly forget how to get to a familiar location. Using modern household appliances could become an overwhelming task if seniors no longer remember how to operate them. Cleaning the house, doing the laundry, and washing dirty dishes might fall by the wayside. The ingredients needed to make meals are often forgotten and the steps required make no sense. 
Seniors who find it difficult to manage daily tasks without assistance can benefit from professional in-home care. There are a variety of age-related health conditions that can make it more challenging for seniors to live independently. However, many of the challenges they face can be easier to address if their families opt for professional homecare. You can rely on expertly trained caregivers to keep your loved one safe and comfortable while aging in place.
4. Confusion about Place & Time
During the initial stages of Alzheimer's disease, seniors may no longer recognize their homes. They're likely to forget their addresses and the cities and states they live in. If out and about unaccompanied, seniors with Alzheimer's commonly get lost and cannot find their way home. They're also likely to lose sense of time, and they often don't know the time of day or the date. 
5. Vision-Related Changes
The changes occurring in the brain can affect the way visual information is received and processed. Written words may seem jumbled or difficult to read. Seniors may lose the ability to differentiate between similar colors unless there's a great difference in contrast. Depth and spatial perception changes, and floors with varying colors may appear to have different depths. Assessing height differences may become challenging, making it difficult to go up and down stairs of the same color. 
If your loved one has been diagnosed with a serious medical condition and needs help with daily tasks, consider hiring a professional caregiver. Although it may be challenging to find reliable, highly rated elder care, Richardson, TX, families can turn to Ambience In-Home Care. Our respite and live-in caregivers are expertly trained to assist seniors with a wide array of important tasks, including cooking, bathing, light housekeeping, and exercise. Reach out to us at Ambience In-Home Care if you need compassionate professional care for your loved one. Call one of our friendly Care Managers today at (469) 535-6825.