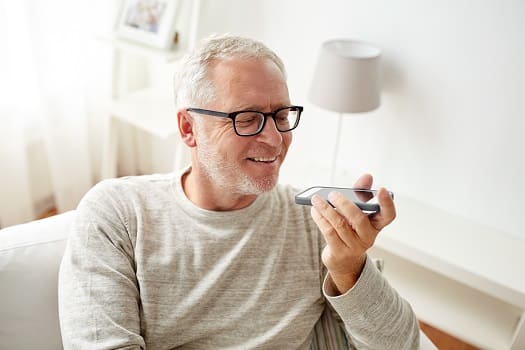 There's often an emphasis placed on the physical therapy needed to regain mobility and enhance gross and fine motor skills after a stroke occurs. However, it's just as essential to help the brain form new neural pathways in the areas that handle important functions such as memory and pattern recognition. Here are six amazing cognitive exercises designed to help stroke survivors achieve this goal as they recover.
1. Cognitive Training Apps
Thanks to apps that can be accessed on mobile devices, stroke survivors can easily work their way through app-based exercises from wherever they are at the moment. Some of the top ones include:
• Lumosity – A "brain-training" app that offers more than 60 cognitive exercises with varying skill levels.
• CT Speech and Cognitive Therapy – A popular app that contains 100k-plus cognitive and language exercises.
• Tactus Therapy – While primarily a speech app, Tactus Therapy can also help stroke survivors with cognitive functions.
Boosting cognition is just one of the many challenges to overcome during stroke recovery. Seniors can face a variety of challenges as they age, many of which can be mitigated with the help of professional in-home caregivers who provide high-quality home care. Ambience families trust Ambience In-Home Care to help their elderly loved ones age in place safely and comfortably.
2. Meditation Exercises
Involving controlled breathing and mental focus, meditation exercises can help stroke survivors cognitively by naturally boosting their mental clarity. Meditation can also be an effective way to increase attention span and promote overall relaxation, which is a good thing for a healing brain.
3. Word Puzzles
A recovering brain often benefits from mental exercises that gradually become more challenging and stimulating. One way for a senior stroke survivor to get this kind of mental stimulation is to exercise the brain with word puzzles. Puzzles like sudoku, crossword puzzles, and word searches can be especially beneficial since they can help with:

• Perceptional abilities
• Memory and logic
• Vocabulary and language
Many stroke survivors find it easier to engage in stimulating exercises when they're shared with a trusted companion. For families living in Amnbience, respite care can be a wonderful solution when their aging loved ones need companionship and socialization a few hours a week or just need minor assistance with daily household tasks. At Ambience In-Home Care, we thrive on helping seniors maintain their independence while living in the comfort of home.
4. Board Games
Playing popular board games like Connect Four, Scrabble, and checkers can also be mentally stimulating for senior stoke survivors. Games with simple premises that still provide a sufficient amount of mental "pushing" have the ability to enhance problem-solving and pattern-recognition skills. Short-term memory can be boosted as well since there's often a need to recall what other players did.
5. Music-Based Exercises
Another fun and engaging way for stroke survivors to recover cognitively after a stroke is with exercises involving music. For example, you can play a series of movements on a drum or tambourine and then ask your loved one to repeat the same pattern. Singing a favorite song or playing a musical instrument can provide similar benefits. Music-based exercises can enhance a wide range of cognitive skills, including ones involving:

• Short-term memory
• Auditory processing
• Selective attention
• Cognitive flexibility and control
• Speed of information processing
6. Creative/Artistic Activities
Did you know the brain is often better able to rewire itself when areas on both sides are stimulated during the stroke recovery process? This is what makes creative or artistic activities so good for stroke survivors. From traditional painting and finger painting to sculpting, scrapbooking, and drawing, there are many fun artistic and creative projects your loved one can do to exercise multiple parts of the brain in a way that contributes to noticeable physical and mental enhancements.

If your senior loved one needs help managing an illness or assistance with daily tasks, make sure you choose a top-rated provider of homecare. Ambience In-Home Care is here to help your loved one live a happier and healthier life in the golden years. From the mentally stimulating activities in our Cognitive Therapeutics Method to our friendly Care Managers who are available to answer your questions 24 hours a day, we offer a wide array of high-quality at-home care services. Call (469) 573-4213 today to schedule a free in-home consultation.