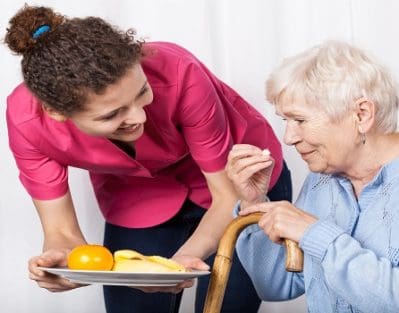 The progression of Parkinson's disease often involves changes in a person's eating habits. These changes can be due to medication side effects such as nausea, or your senior loved one may begin to have difficulty with chewing and swallowing. As your loved one's caregiver, you can use these tips to help him or her eat well during each stage of the disease.
Combat Fatigue with Meal Prep Assistance
Seniors with Parkinson's disease may use up all their energy trying to prepare meals, which makes it difficult to eat. For this reason, your loved one can benefit from meal preparation assistance even in the earlier stages of Parkinson's. You or a professional caregiver can prepare meals most of the time so your loved one can focus on eating. Being in charge of meal prep is also a great way to make sure your loved one eats nutritious meals that help the body manage the changes that occur as the condition progresses.
Caring for a loved one with advanced Parkinson's can be extremely challenging, and a compassionate, professional caregiver can be a wonderful source of support. If your elderly loved one is living with a serious medical condition and needs help managing the tasks of daily living, reach out to Ambience In-Home Care, a senior care agency you can trust. Our caregivers are available 24/7, there are no hidden fees in our contracts, and we offer a 100% satisfaction guarantee on all of our in-home care services.
Encourage Proper Posture
Choking is a serious concern for seniors with Parkinson's. One of the simplest things you can do when feeding your loved one is to make sure he or she is sitting up properly. Your loved one should sit upright in a hard-bottomed chair at a 90-degree angle. He or she may also find it easier to swallow when tilting the head slightly forward. After your loved one finishes eating, he or she may need to continue to sit or stand for a few minutes to let the food settle before lying down.
Cut Food into Smaller Pieces
Your loved one may also face difficulty with tasks such as cutting food. Always cut up food before serving it, and remember the food should be in smaller pieces than you'd make for your own plate. The smaller pieces reduce the amount of chewing your loved one has to do.
Chewing difficulties and other eating issues in the advanced stages of Parkinson's disease can make caring for aging adults increasingly challenging. Some seniors only require help with a few daily tasks so they can maintain their independence. However, those living with serious illnesses may need more extensive assistance. Luckily, there is professional 24-hour care Ambience, TX, seniors can rely on. Home can be a safer and more comfortable place for your loved one to live with the help of an expertly trained and dedicated live-in caregiver.
Find the Right Texture
Many meals can be blended without losing their flavor, and this is an option if your loved one reaches a point where chewing even tiny pieces becomes difficult. While it may seem to make sense to puree things until they're as liquefied as possible, this can actually increase the risk of aspiration. Instead, work to find the right texture for your loved one's blended meals. For many aging adults, a texture similar to honey goes down well but is thick enough that it doesn't seep into the lungs.
Plan Extra Time for Hand-Feeding
Hand-feeding often becomes necessary when older adults reach the later stages of Parkinson's disease, and your loved one may need more of your assistance if he or she continues to spill food or has difficulty getting utensils from the plate to his or her mouth. As you feed your parent, make sure to give your loved one extra time to chew and swallow each spoonful. You can also ask questions and look for visual cues, such as leaning forward toward your hand, that he or she is ready for another bite.
Many seniors in the early stages of Parkinson's are able to live on their own, but shopping for groceries and preparing nutritious meals can be challenging. Aging adults who require assistance with the tasks of daily living can benefit from reliable elderly care. Families trust Ambience In-Home Care to provide the high-quality care their elderly loved ones need and deserve. Our caregivers are trained to help seniors prevent serious illnesses and encourage them to make healthier decisions as they age. Call Ambience In-Home Care at (469) 573-4213 to learn more about our flexible and customizable senior care plans.