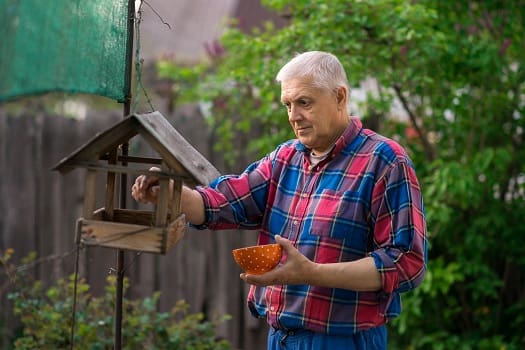 If your senior loved one enjoys watching birds up close, all he or she needs to do is feed them, and they'll come. Creating a bird feeder doesn't have to be a difficult task. In fact, there are many DIY bird feeder ideas your loved one can choose from. 
1. Shoe Feeder
Help your loved one nail an old shoe to a tree and fill it with birdseed, then he or she can wait for the birds to come. Even though this is an easy DIY project, feeding the birds could provide your loved one with a lot of responsibility. He or she will need to keep the feeder full each day and watch out for other animals that may flock to it. This type of responsibility could give your loved one a sense of purpose and accomplishment. 
Depending on your loved one's level of mobility, he or she may need assistance with making bird feeders or performing everyday tasks. Some seniors need occasional assistance at home, and oftentimes the family members who take care of them need time away to run errands, take a nap, go to work, or take a vacation. Garland respite care experts from Ambience In-Home Care are available on an as-needed basis, giving your family peace of mind that your loved one will remain safe and comfortable while you relax or focus on other important responsibilities. 
2. Water Jug Feeder
Using a regular water jug, a marker, twine or string, and a knife, your loved one can have a new feeder in the yard in no time. This feeder can hang from a post or a tree branch during the winter, spring, summer, and fall. Bird-watching is a fun activity that could keep your loved one's memory skills in good shape. For example, the appearance and sounds of the birds could evoke memories from your loved one's childhood. 
3. Pine Cone Feeder
Creating a bird feeder is fun, but collecting pine cones is an activity in itself. Once your loved one has found the right pine cone, he or she will need to cover it with peanut butter and then roll it in bird seed. Next, he or she can attach a string, ribbon, or small wire to hang the pine cone feeder from a tree or light post in the yard. The real fun begins when the birds arrive. The excitement could lead to the release of endorphins in your loved one's body. Endorphins are immediate mood boosters that enhance mental, physical, and emotional health. 
Seniors who want to remain healthy as they age can benefit in a variety of ways when they receive professional at-home care. Ambience In-Home Care is here to help your loved one accomplish daily tasks, prevent illness, and focus on living a healthier and more fulfilling life.
4. Milk Carton Feeder
This is the perfect DIY bird feeder for seniors who enjoy exploring their creative side. All your loved one needs to make this feeder is paint, a paintbrush, glue, buttons, a hole punch, a knife, and an empty milk carton (half-gallon size). There are no right or wrong colors or designs. When making this feeder, your loved one can have total creative control. Creating and designing this feeder can alleviate boredom and prevent feelings of depression. Making a milk carton feeder can also increase concentration, hand-eye coordination, and cognitive abilities. 
5. Teacup Feeder
Seniors who enjoy bird-watching can take an old teacup and saucer, a copper tube from the hardware store, and adhesive glue to begin making their next feeder. This feeder can be placed in the ground using the copper tubing. Your loved one can sit on the front porch or the patio in the backyard and enjoy the calming effect of bird-watching. This activity can lower anxiety while providing sensory stimulation with the colorful sights and distinctive sounds of birds.
If your loved one requires assistance with working on creative projects or completing tasks around the house, consider hiring a professional caregiver. Seniors can face a variety of challenges as they age, many of which can be mitigated with the help of professional in-home caregivers who provide high-quality home care. Garland families trust Ambience In-Home Care to help their elderly loved ones age in place safely and comfortably. To learn about our premier in-home care plans and how they can help your loved one, give us a call at (469) 573-4213 today.