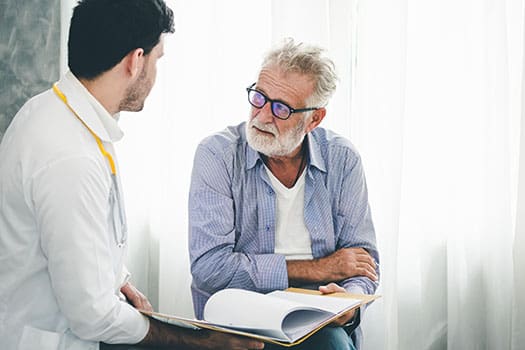 Chronic illnesses such as diabetes can cause frequent hospital readmissions. The rate is especially high for those with uncontrolled diabetes and other hard-to-manage illnesses. Lowering the rate of senior hospital readmissions is a goal shared by hospital administrators, caregivers, and seniors. Here are some strategies to consider that may reduce your aging loved one's risk for hospital readmissions.
1. Participate in Cardiac Rehab
It's essential for seniors who have had heart attacks to participate in cardiac rehabilitation programs while still in the hospital, because cardiac rehab increases energy levels so aging adults can perform the activities of daily living more easily. It also lowers the risk for a future cardiovascular event and subsequent hospital readmission. Cardiac rehab can reduce symptoms of depression as well. Seniors with strong mental and emotional health are more likely to follow their treatment plans when they get home so complications are less likely to occur.
2. Pay Special Attention to Wound Care
If your loved one was discharged from the hospital with a decubitus ulcer or a diabetic-related stasis ulcer, wound care will need to continue at home. If the wound isn't cleaned, treated, and dressed on a regular basis, an infection may develop, requiring another hospitalization for the administration of intravenous antibiotics or even surgical debridement of the wound. Make sure you take care of your loved one's wound, and at the first sign of infection, call the doctor. Signs of a wound infection may include increased redness, drainage, pain, and inflammation. Fever, chills, and muscle pain may also occur if the infection has spread systemically. 
A professional caregiver can closely monitor your loved one for post-hospitalization complications, including infections. When searching for reliable senior care agencies, families want to know their senior loved one will be well taken care of. At Ambience In-Home Care, our expertly trained caregivers are available around the clock to assist with tasks around the house, provide transportation to medical appointments and social events, and much more.
3. Keep Lines of Communications Open
After your loved one is discharged from the hospital, make sure to communicate with his or her physician on a regular basis. Report any subtle changes in your loved one's condition, and if you have questions about a new medication, treatment, or procedure, don't hesitate to ask. When you reach out to the doctor early on, small problems can be addressed before they become major health issues.
4. Follow Up on Medical Tests
Your loved one may be discharged from the hospital before the results of his or her medical tests are in. While abnormal results will be communicated to the attending physician, there may be a delay in your receiving notification. If you don't hear from the hospital or doctor within a couple of days after discharge, reach out to the physician or call the nurses' station to see if the tests came back. Failure to learn about abnormal test results may lead to a medical emergency and subsequent hospital readmission.
Some seniors only require help with a few daily tasks so they can maintain their independence. However, those living with serious illnesses may need more extensive assistance. Luckily, there is professional live-in care Ambience, TX, seniors can rely on. Home can be a safer and more comfortable place for your loved one to live with the help of an expertly trained and dedicated live-in caregiver.
5. Monitor for Behavioral Changes
When your loved one returns home from the hospital, monitor him or her for behavioral changes, such as crying, refusing to eat, confusion, agitation, anxiety, pacing, or withdrawing from social situations. These signs may indicate the presence of an infection, liver disease, cardiovascular problems, or even a brain disorder. Sometimes subtle behavioral changes are the first signs of systemic illnesses, so it's crucial that you make an appointment with a physician as soon as possible. Your loved one may have a simple urinary tract or sinus infection that can be treated with antibiotics. Once the infection has cleared, unusual behaviors should also resolve.
One of the most challenging tasks of helping an elderly relative age in place safely and comfortably is researching agencies that provide at-home care. Ambience families can turn to Ambience In-Home Care for reliable, high-quality in-home care for aging adults. We offer 24-hour live-in care for seniors who require extensive assistance, and we also offer respite care for family caregivers who need a break from their caregiving duties. Call Ambience In-Home Care at (469) 573-4213 to learn more about our flexible and customizable senior care plans.