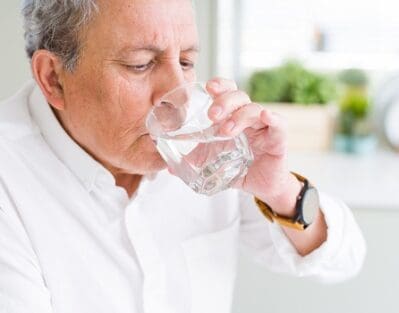 With chronic liver disease increasing among the elderly population, preventative measures to protect this vital organ may reduce the risk of developing the condition, which often goes undiagnosed in seniors. Since everything that's consumed, including medication, eventually makes its way through the liver, it's important to take steps to maintain liver health. Here are a few suggestions.
1. Drink Alcohol in Moderation
Drinking alcohol in moderation has some notable health benefits for seniors, including lowering the risk of developing gallstones. However, too much alcohol can cause swelling and scarring in the liver that leads to cirrhosis. The general recommendation for consumption is two glasses a day for men and one for women. 
If your aging loved one needs help managing everyday tasks or encouragement to adopt healthier lifestyle choices, turn to Ambience In-Home Care, a leading provider of homecare. Garland Ambience In-Home Care provides professional in-home caregivers around the clock to help seniors live longer, happier, and healthier lives.
2. Maintain a Healthy Weight
Maintaining a healthy weight through diet and exercise can reduce the risk of developing non-alcoholic fatty liver disease (NAFLD), a condition often affected by excessive weight. A healthy diet for seniors includes a mix of fruits and veggies, grains, and protein. 
If your loved one needs help shopping for groceries and preparing nutritious meals, consider hiring a home caregiver. Seniors can face a variety of challenges as they age, many of which can be mitigated with the help of professional in-home caregivers who provide high-quality elderly home care. Trust Ambience In-Home Care to help your elderly loved one age in place safely and comfortably.
3. Be Mindful of Certain Medications
Some painkillers and cholesterol drugs seniors take on a regular basis may adversely affect the liver. In particular, excessive amounts of acetaminophen can cause damage to the liver, and it can be difficult to track, since it's also an ingredient found in many cold medications. 
4. Drink More Water
Drinking eight glasses of water during the day can boost liver health for seniors. Doing so flushes toxins out through the bladder and bowels and prevents recirculation through the bloodstream. Adding lemon juice to a few of those glasses of water can further aid with digestion and help the liver. 
5. Choose Chemical-Free Products
The skin is highly absorptive, with everything applied to it eventually making it through the liver. Opting for chemical-free body care products whenever possible can help seniors minimize what's absorbed into their skin, especially products like shampoo that are used on a regular basis. 
For some families, caring for a senior loved one can be overwhelming at times. Whether you need respite from your caregiving duties or your aging loved one needs live-in care, Garland, TX, Ambience In-Home Care can meet your family's care needs. Our dedicated caregivers are available around the clock to provide transportation to doctor's appointments, ensure seniors take their prescribed medications, and help with a variety of tasks in and outside the home. To learn about our high-quality in-home care services, give us a call at (469) 573-4213 today.