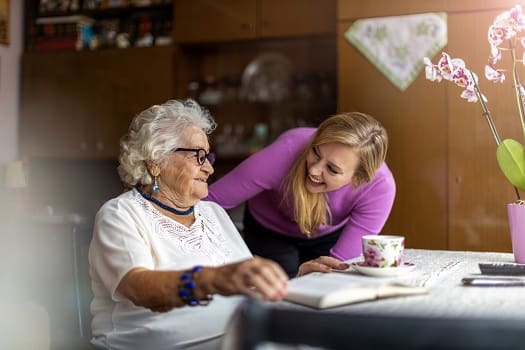 As more and more adult children are assisting with in-home care for their elderly parents, they're encountering the stressfulness of dementia and Alzheimer's more frequently. Part of the reason more children are having to learn how to manage the stresses associated with these ailments is that more seniors are choosing to age in place and remain in their homes. As such, mindfulness-based dementia and Alzheimer's care is becoming more prevalent. This type of care requires focusing on the present moment from the senior's perspective without any judgments. Doing so helps caregivers gain insight into their elderly parents' minds and develop effective practices to help them remain grounded.
If your elderly loved one is living with a serious medical condition and needs help managing the tasks of daily living, reach out to Ambience In-Home Care, a Ambience home care agency you can trust. Our caregivers are available 24/7, there are no hidden fees in our contracts, and we offer a 100% satisfaction guarantee on all of our in-home care services.
With in-home caregiving services readily available, there's no reason your parents cannot remain at home, even if they're starting to show signs of dementia or Alzheimer's. However, the stresses associated with the type of care your parents require can be very emotional and stressful and could even lead to experiencing depression yourself, unless you develop solid foundations using mindfulness-based care. When it comes to providing your elderly loved one with reliable Alzheimer's home care, here's how mindfulness-based care can be beneficial.
What Is Mindfulness-Based Care?
Aside from focusing on the present moment to provide care, this type of care requires caregivers to learn specific techniques and skills that can enable them to manage their emotions and stress. Caring for senior parents who have memory issues can be painful for their children. The first step to developing the techniques and skills for this care method is to simply put it into practice. Start living in the moment when you're caring for your parents, whether it's for a few short hours or the entire day. Essentially, you should set aside your own personal things that tend to go through your mind, like errands you need to run, chores you need to do around your own home, and so on. Instead of occupying your mind with these things, let them go momentarily while spending time and caring for your parents. Slow down and appreciate the time you have with your parent, whether he or she is having a good or bad day. Doing so allows you to start to develop and understand how difficult things are for your parent on bad days. Plus, you learn how to integrate various responses to address behaviors and be able to effectively communicate with your loved one through mindfulness-based care.
There are many reasons seniors might need assistance at home. Some may require regular mental stimulation due to an Alzheimer's diagnosis, while others might only need part-time assistance with exercise and basic household tasks. Ambience In-Home Care is a leading in-home care provider. Families rely on our expertly trained caregivers to help their senior loved ones maintain a high quality of life.
Mindfulness-based care also requires building a support team between all family caregivers. You don't need an extensive team, either. It could be yourself and a professional in-home caregiver. The objective is to be able to find strength and mutually support each other while developing mindfulness practices. This allows all family caregivers to have someone they can share their challenges and happiness with and not have to keep things "bottled up." As a result, not only do your parents receive better quality care but, you're also better able to care for them.
Every senior living with Alzheimer's deserves high-quality Alzheimer's care. Ambience families can rely on the caregivers at Ambience In-Home Care to keep their loved ones safe while managing the symptoms of the disease. Using our Cognitive Therapeutics Method, our caregivers help seniors regain a sense of pride and accomplishment while promoting cognitive health. To speak with one of our knowledgeable Care Managers, call (469) 573-4213 today.