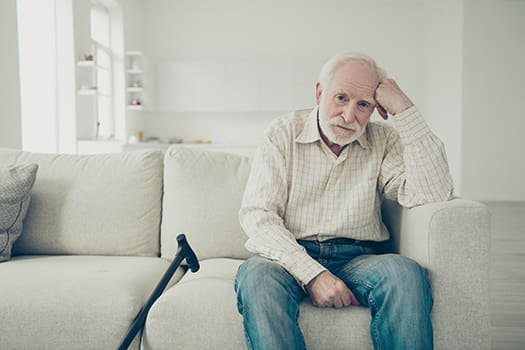 When people hear the term "Parkinson's disease," uncontrollable shaking or tremors may come to mind. Parkinson's disease is chronic and progressive, with symptoms that include tremors, fatigue, anxiety, and stiff muscles. Chemical imbalances in the brain, exposure to pesticides, and aging are some factors scientists think may cause Parkinson's disease. The condition can be challenging to manage, so seniors with Parkinson's and their loved ones may experience the following social impacts.
1. Emotional Impact
A diagnosis of Parkinson's leaves some seniors and their families feeling hopeless and sad because there's no cure. A senior with Parkinson's can experience a range of emotions that include anger and anxiety. Pain and difficulty sleeping can add to fatigue and irritability.
2. Social Isolation
After being diagnosed with Parkinson's, seniors may be self-conscious about tremors and other symptoms, even if those issues are minor. They might not feel confident about going out in public because they're afraid people will discover something is wrong. Rather than share what's going on, they might isolate themselves by spending more time at home rather than engaging in enjoyable activities, such as having lunch with friends.
At some point, your loved one may get a great deal of benefit from having a professional caregiver help with everyday tasks. Families looking for top-rated elder care providers can reach out to Ambience In-Home Care. From respite care to specialized Alzheimer's, dementia, stroke, and Parkinson's care, there are many ways we can make life easier for seniors and their loved ones.
3. Work Relationships
When an individual who develops Parkinson's is still working, coworkers and supervisors may not realize the employee might have some limitations. Parkinson's can cause forgetfulness, slow movements, and changes in the ability to communicate, all of which could affect job performance. Coworkers who are unaware of the condition and might have to take on extra tasks could assume the person with Parkinson's is slacking on the job.
4. Intimate Relationships
A partner with Parkinson's may lose interest in sex or experience loss of sexual function. Studies have shown that in some instances, medication prescribed for Parkinson's can cause hypersexuality and poor impulse control. Any of these issues can cause conflicts in intimate relationships, especially when partners aren't aware these are behaviors associated with the condition.
5. Family Relationships
Seniors with Parkinson's disease may long to have contact with their family members but be hesitant because they don't want to be a burden. It's not unusual for people recently diagnosed with Parkinson's to keep the information to themselves because they don't want to shock family members. The nature of the disease can cause family members to worry. Young children may not understand why a grandparent feels tired and irritable or no longer enjoys fun activities.
The symptoms of Parkinson's disease can be difficult to manage, and family caregivers can easily get overwhelmed. Caring for a senior loved one can be challenging for families who don't have expertise or professional training in home care, but this challenge doesn't have to be faced alone. Family caregivers can turn to Ambience In- Ambience In-Home Care for the help they need. We provide high-quality live-in and respite care as well as comprehensive Alzheimer's, dementia, stroke, and Parkinson's care.
6. Caregiving Challenges
As the disease progresses, a person with Parkinson's may require assistance with daily activities like eating, bathing, dressing, and going to medical appointments. Families may not be ready for the challenge of caregiving while working and raising children. Those who aren't aware of services like in-home care may find it difficult to balance caregiving with other responsibilities.
Many seniors in the later stages of Parkinson's can continue to live at home, but they'll most likely need assistance from a family member or other caregiver to do so safely. For many seniors in Ambience, TX, live-in care is an essential component of aging in place safely and comfortably. However, it's important for them to have caregivers they can trust and rely on. At Ambience In-Home Care, we extensively screen all of our live-in and 24-hour caregivers and only hire those who have experience in the senior home care industry. Our strict requirements ensure seniors can remain in the comfort of home with a reduced risk of injury or serious illness. Rely on the professionals at Ambience In-Home Care to provide high-quality compassionate care for your loved one. Give us a call today at (469) 573-4213 to learn about our flexible in-home care plans.