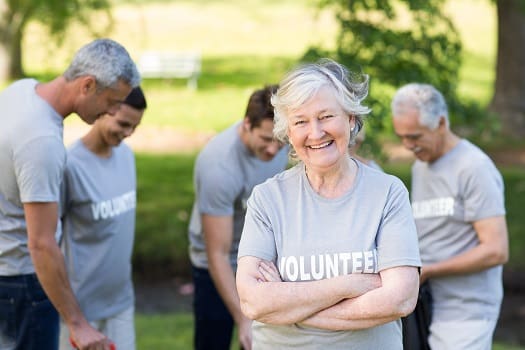 Volunteering is one of those things most people wish they could do more often. After all, every community benefits when people are willing to share their time and talents. People who volunteer regularly will be quick to tell you they get back more than they put into their roles. Choosing to volunteer during the senior years provides several benefits that make it easy to look forward to starting the first shift.
1. Return Other People's Acts of Kindness
Your aging loved one may have many stories of times when other people helped him or her out. For instance, your loved one might have once been able to adopt a shelter pet, and now it's his or her turn to take care of dogs and cats until they find homes. Your loved one may have been a student who had a volunteer tutor, and he or she can now be a tutor to a younger child or college student. In any type of role, your loved one will feel good knowing he or she can give back what he or she was given in the past.
2. Connect with New People Regularly
Your loved one might stay in contact with work friends after retirement. However, he or she may need to make more of an effort to meet new people. Volunteering puts seniors in regular contact with streams of new people, which can turn into perfect opportunities to socialize during the day.
Regular social interaction can help aging adults avoid a number of mental, emotional, and physical challenges. For families living in Amnbience, respite care can be a wonderful solution when their aging loved ones need companionship and socialization a few hours a week or just need minor assistance with daily household tasks. At Ambience In-Home Care, we thrive on helping seniors maintain their independence while living in the comfort of home.
3. Develop Long-Term Friendships
Seniors also meet people who share their interests during volunteer work. These people can brighten your loved one's day, and spending so much time together can lead to the creation of strong friendships. Having some long-term friendships is important because it lets your loved one know where to turn when he or she needs support.
4. Have a Reason to Stay Healthy
Seniors sometimes give up on their health when they feel like they don't matter anymore. With a secure volunteer role, your loved one will feel a sense of responsibility to show up and perform his or her duties. This sense of responsibility may help your loved one find a reason to take care of his or her health and personal hygiene. Depending on the volunteer role, performing activities such as bending, reaching, and standing can also promote better health.
In-home caregivers can also serve as wonderful sources of support for seniors who want to boost their health. Home care agencies can be a great boon to seniors. With the help of the caregivers at Ambience In-Home Care, your aging loved one can lead a happier and healthier life. We offer a revolutionary program called the Balanced Care Method, which encourages seniors to eat nutritious foods, exercise and socialize regularly, and focus on other lifestyle factors that increase life expectancy.
5. Challenge the Brain
Older adults need to continue to learn new things to keep their cognitive skills sharp. Although your loved one might choose a role in an area he or she is familiar with, he or she will still need to learn how the organization likes to get things done. Your loved one may also be regularly exposed to new training materials that increase his or her cognitive abilities.
6. Feel Good
Volunteering should leave seniors with a sense of accomplishment. While your loved one might not expect it, volunteers are often praised for their efforts. Your loved one will also enjoy seeing his or her efforts help others, making him or her feel fulfilled at the end of the day.
Volunteering can make a significant contribution to robust mental and physical health in seniors. Not every senior has the same care needs, which means they don't all need the same type of senior care. You can rely on Ambience In-Home Care to provide individualized care plans to meet your elderly loved one's unique care needs. Our holistic Balanced Care Method was designed to help seniors focus on healthy lifestyle habits such as eating nutritious foods, exercising regularly, and maintaining strong social ties, and our Cognitive Therapeutics Method offers mentally stimulating activities that can stave off cognitive decline and delay the onset of dementia. To hire a dedicated caregiver, call Ambience In-Home Care at (469) 573-4213 today.