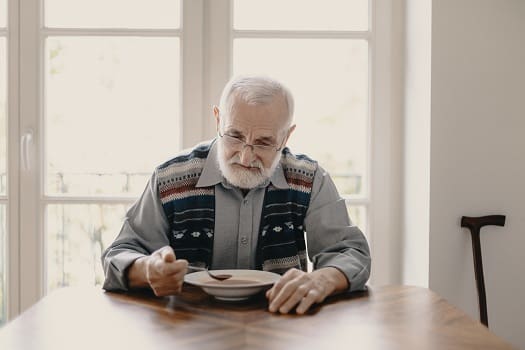 Good nutrition is an important part of healthy aging. If your senior loved one loses his or her appetite, nutritional deficiencies can quickly develop if he or she fails to eat enough nutrient-dense foods. Here are some reasons your loved one may lose his or her appetite and what you can do about it. 
1. Medication Side Effects
Certain medications, such as antibiotics, pain relievers, and blood pressure medications, can cause gastrointestinal problems and subsequent appetite loss. If your loved one isn't able to tolerate the side effects of his or her medication, talk to the doctor, who may lower the dosage. If this doesn't help, the medication may need to be discontinued and replaced with a different one that's less likely to cause appetite loss and digestive issues. 
A trained caregiver can provide expertise and additional support to encourage your loved one to eat well. Not every senior has the same care needs, which means they don't all need the same type of in-home care. Families can rely on Ambience In-Home Care to provide individualized care plans to meet their elderly loved one's unique care needs. Our caregivers help seniors focus on healthy lifestyle habits such as eating nutritious foods, exercising regularly, and maintaining strong social ties, and we offer mentally stimulating activities that can stave off cognitive decline and delay the onset of dementia.
2. Infections
Bacterial and viral infections can cause fever, chills, nausea, diarrhea, and muscle pain. In addition, infections can also lead to severe appetite loss. Even though your loved one may not feel like eating when he or she has an infection, drinking fluids is essential. Dehydration can develop quickly in older adults who have infections. If it's not recognized and addressed promptly, dehydration can lead to serious health problems, including cardiac arrhythmia, decreased urinary output, kidney disorders, low blood pressure, and fainting. 
3. Renal Disease
Renal disease can cause fluid retention in the abdomen, which can cause appetite loss, nausea, vomiting, stomach and back pain, severe weakness, sleepiness, and muscle pain. If your loved one has renal disease and loses his or her appetite, immediately see the doctor, who may prescribe meal replacement shakes or dietary supplements.
4. Anxiety & Depression
Monitor your loved one for changes in behavior, such as excessive sleeping, poor appetite, crying episodes, lack of interest in personal hygiene, and anger issues. If you notice any of these, ask your loved one if he or she is sad, lonely, scared, or worried. Try to resolve any issues that are causing the symptoms. If you're unable to help, make an appointment with a mental health specialist. Once anxiety and depression are diagnosed and treated, your loved one may regain a robust appetite. 
Helping seniors get proper nutrition when they don't want to eat can be exhausting for family caregivers. If you're the primary family caregiver for an elderly loved one and need additional assistance providing high-quality homecare services, Garland families trust Ambience In-Home Care. We are a leading home care agency committed to changing the way seniors age.
5. Neurological Problems
Neurological problems resulting from conditions such as Parkinson's disease and strokes can cause significant appetite loss in seniors. Swallowing problems and fear of choking may make it difficult for seniors with these types of issues to enjoy food. In addition, neurological problems can cause delayed gastric emptying, which may lead to early fullness even after consuming small amounts of food. If your loved one doesn't have much of an appetite because of neurological problems, his or her physician can prescribe an appetite-enhancing medication. The doctor may also recommend a test to determine if your loved one has a condition known as gastroparesis, which causes bloating, early satiety, nausea, vomiting, and loss of appetite.
6. Loss of Taste
As people age, taste bud function can decrease, and food may taste unappealing and bland. To intensify the flavor of your loved one's food, use spices such as parsley, rosemary, cinnamon, and turmeric. Adding lemon or lime juice to dishes may also enhance their flavors so they're more appetizing. Loss of taste can also be caused by salivary gland dysfunction, thyroid disorders, and sinus problems. 
Seniors who aren't able to eat enough to get proper nutrition may need a higher level of care. If your senior loved one needs around-the-clock assistance at home, the Garland, TX, live-in care professionals at Ambience In-Home Care are here to help. Our highly trained caregivers promote longevity by encouraging seniors to focus on healthy eating, regular exercise, mental engagement, and other important lifestyle factors. To learn more about our premier in-home care plans, call us at (469) 535-6825 today.