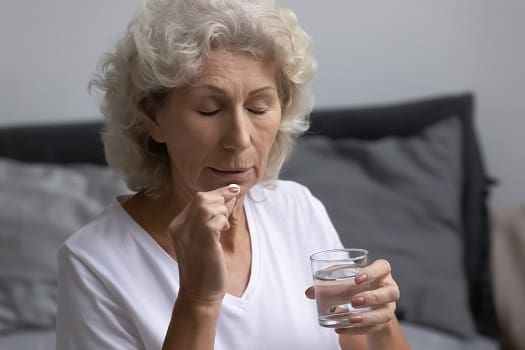 One of the most common symptoms associated with Parkinson's is tremors, and many seniors experience the shaking sensation at some point. The issue generally impacts one side of the body. However, as the disease progresses, both sides may be affected, and the sensation can worsen. Continue reading to learn what your elderly loved one can do to alleviate tremors caused by Parkinson's disease. 
1. Take Medication
Most medical providers prescribe medication to control the motor symptoms associated with neurodegenerative disorders. Levodopa is the most common medication used to treat Parkinson's tremors. The medicine is absorbed in the intestines, and once it reaches the brain, it converts into dopamine, which can strengthen muscles and reduce tremors. Speak with your loved one's primary care physician about any side effects caused by the prescription. Monitoring the medicine's impact helps the doctor determine if a medication is working. In some cases, deep brain stimulation may be necessary to reduce tremors, stiffness, and other symptoms of Parkinson's. 
Many seniors in the early stages of Parkinson's are able to live on their own, but they may need help with the everyday tasks of life, such as exercising and preparing nutritious meals. Aging adults who require assistance with the tasks of daily living can benefit from reliable elder care. Families trust Ambience In-Home Care to provide the high-quality care their elderly loved ones need and deserve. Our caregivers are trained to help seniors prevent serious illnesses and encourage them to make healthier decisions as they age.
2. Have Surgery
The doctor may determine surgery is necessary to relieve your loved one's tremors. The surgical procedure is designed to deliver stimulation to areas of the brain that control movement and block abnormal nerve signals that cause tremors. Operations can cause complications for seniors, especially procedures that involve the brain. Speak with your loved one's doctor about all possible treatments and choose the option that alleviates Parkinson's symptoms without putting your parent's health in jeopardy. 
3. Try Occupational Therapy
Your parent's medical providers may recommend physical therapy to increase muscle strength. Occupational therapy can also help your loved one with control and coordination. Some of the activities your loved one can expect are resistance training and behavioral relaxation therapy. These treatments are beneficial because they provide deep brain stimulation and decrease the severity of tremors. In addition to physical movements and at-home exercise suggestions, the physical therapist may recommend devices that help your loved one live with essential tremors. For instance, wrist weights and wide-grip pens are adaptive devices that reduce the effects of tremors and make it easier for seniors to complete daily tasks, such as writing and handling eating utensils. 
Seniors living with serious health conditions often need extensive assistance in and outside the home. Ambience In-Home Care is a trusted provider of Ambience live-in care. Our caregivers are expertly trained to assist seniors with bathing, grooming, light housekeeping, and various other daily tasks, and we also offer specialized Alzheimer's, dementia, stroke, and Parkinson's care.
4. Consume Less Alcohol
Excessive drinking can increase tremors and lead to other health problems for seniors living with Parkinson's disease. When your loved one consumes too much beer or wine, you may notice him or her having difficulty picking up forks and spoons, combing his or her hair, or buttoning his or her clothes. Drinking alcoholic beverages could also cause balance problems and exacerbate cognitive symptoms as the disease progresses. These beverages may impact medical treatments and prescriptions, which is why your loved one should limit his or her alcohol consumption. Encourage your loved one to find fun hobbies to take on or consider joining a senior support group to develop techniques to curb the urge to drink alcohol.
Caring for a loved one with Parkinson's can be extremely challenging, and a compassionate professional caregiver can be a wonderful source of support. If your elderly loved one is living with a serious medical condition and needs help managing the tasks of daily living, reach out to Ambience In-Home Care, a Ambience senior home care agency you can trust. Our caregivers are available 24/7, there are no hidden fees in our contracts, and we offer a 100% satisfaction guarantee on all of our in-home care services. Whether your parent needs minor help with daily tasks or extensive 24-hour care, give us a call at (469) 573-4213 today.