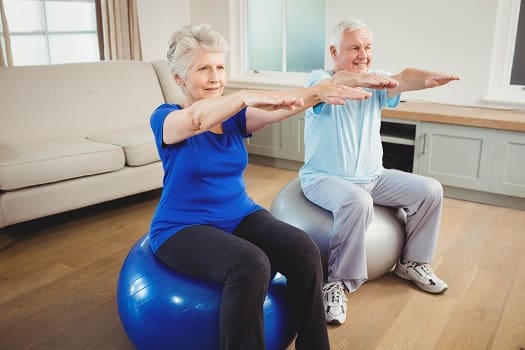 Losing some physical abilities is part of the natural aging process. The various aches experienced with age are related to the deterioration of muscle and connective tissue, which in turn affects motor skills, body strength, balance, and stamina. In other words, physical activity becomes more and more difficult, and this undermines the motivation to exercise. Seniors may find it easier to avoid exercises altogether, but this could reduce their quality of life. 

Encouraging your elderly loved one to exercise is one of the best things you can do for him or her. However, motivating your parent to stay physically active may be a bit of a challenge. Here are a few simple ways you can encourage your aging loved one to exercise.
Make Exercise a Rewarding Experience
Think back to the times in your life when a relative used the carrot and stick approach to get you to do something. For example, your family member might have suggested going out for pizza as a reward for getting a high score on a school test. If your loved one enjoys certain indulgences, make it a point to reward him or her in exchange for showing a commitment to fitness.
Older adults who need help exercising should consider professional in-home care. Ambience senior home care experts are available to provide high-quality care to seniors on an as-needed basis. From assistance with mobility and exercise to providing transportation to the doctor's office and social events, there are a variety of ways professional caregivers can help your aging loved one continue to live independently.
Take an Active Part in Your Loved One's Fitness Life
Walking, swimming, tai chi, and light yoga are a few gentle physical activities seniors can get into. If you can arrange exercise sessions together, your loved one may be more likely to participate since he or she will get a chance to spend time with you.
Offer Various Options to Exercise
If your parent loves socialization, he or she may enjoy fitness classes with other seniors at a local gym or community center. As seniors get older, they may not appreciate being told what to do. For this reason, it's better if you inform your loved one about various exercises and let him or her make the final choice.
Attending a group exercise class is just one of the many ways older adults can socialize with others. For families living in Amnbience, respite care can be a wonderful solution when their aging loved ones need companionship and socialization a few hours a week or just need minor assistance with daily household tasks. At Ambience In-Home Care, we thrive on helping seniors maintain their independence while living in the comfort of home.
Motivate Through Personal Achievement
A good way to keep your loved one motivated is by highlighting achievements. Ask your loved one to wear a Fitbit or a pace counter to track his or her progress and work toward a goal. You can also make a note of your loved one's initial performance so you can later show how far he or she has come. Think about something you can do together to celebrate a fitness milestone, and remember to set a comfortable goal for the future.
From exercising to preparing nutritious meals, seniors may need help with a wide variety of activities. Aging adults who require assistance with the tasks of daily living can benefit from reliable home care. Ambience, TX, families trust in Ambience In-Home Care to provide the high-quality care their elderly loved ones need and deserve. Our caregivers are trained to help seniors prevent and manage serious illnesses and encourage them to make healthier decisions as they age. To schedule a free in-home consultation, call one of our professional Care Managers at (469) 573-4213 today.