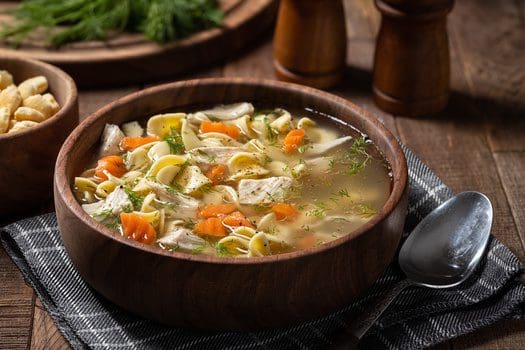 A warm and hearty homemade soup can be a welcome meal during the colder months. However, many seniors have specific dietary restrictions because of various health conditions. Luckily, there are many soups you can make that meet your senior loved one's special dietary needs. 
Soups with Healthy Fats
Though your loved one may be on a low-fat diet for weight loss or cholesterol management, not all fat is bad. To prevent clogged arteries, Mayo Clinic recommends avoiding saturated fats and trans fats, which can lead to high cholesterol. This means replacing rich soups containing cream, butter, and animal fat with soups that have healthy fats. For example, instead of serving cream of potato soup, try making a substitute featuring healthy fat from avocados, or boost heart health with a creamy carrot and walnut bisque packed with omega-3 fatty acids. 
For seniors who have health conditions that make cooking challenging, professional caregivers can be a great resource. Many seniors prefer aging in place over moving to assisted living facilities. If your senior loved one needs assistance to remain safe and comfortable while living at home, reach out to Ambience In-Home, a leading homecare services agency. Our dedicated in-home caregivers can assist with meal prep, bathing and grooming, exercise, medication reminders, and many other important tasks.
Soups with Less Sodium
Salt can enhance the taste of food, but it's not healthy in excess, and many elderly people are on sodium-restricted diets. Too much salt can increase the risk of heart disease and strokes, according to the American Heart Association. While limiting sodium with low-sodium broths is key, adding foods high in potassium can offset some of the negative effects of sodium. A hearty low-sodium potato and kale soup full of healthy potassium-rich vegetables is a good choice for a chilly winter dinner. 
Soups Low in Purines
When uric acid isn't properly processed and increases in the bloodstream, it can form crystal deposits in joints and cause gout, a painful form of arthritis. The source of uric acid is purines, which are found in a variety of high-protein foods. If your loved one has gout, he or she may have been placed on a low-purine diet to reduce gout symptoms. High-purine chicken broth, meat broth, and extracts as well as cream, cheese, meat, seafood, and some beans and vegetables should be avoided in favor of low-purine foods. For example, a vegetable and tomato gazpacho soup can reduce uric acid levels when consumed regularly.
Some seniors need a higher level of assistance in order to make sure they get enough nutrition, exercise, and mental stimulation. If your senior loved one needs hourly or live-in care, Richardson Ambience In-Home Care can help. Our caregivers can assist with exercise and mobility, prepare nutritious meals, provide timely medication reminders, and help with a wide array of other important daily tasks.
Soups Low in Potassium & Phosphorus
Many older adults have dietary restrictions on phosphorus and potassium due to kidney disease. While potassium and phosphorus are required for normal body functions, excess amounts can lead to other issues for seniors with kidney disease. When the body digests protein, it produces a waste product called urea, which can cause fatigue and loss of appetite when it builds up in the bloodstream. While eating a moderately low-protein diet can help, avoiding dairy, which can increase blood phosphorus levels, and high-potassium foods can lessen the kidneys' workload. Avoiding cream-based soups and focusing on soups like a low-potassium, vegetable-based cabbage and rice soup with carrots, green beans, and sweet bell peppers can provide nutrition without taxing the kidneys.
If your loved one needs assistance with planning and preparing meals or accomplishing other simple tasks of daily life, help is just a phone call away. Seniors who want to remain healthy as they age can benefit in a variety of ways when they receive professional elder care. Richardson, TX, Ambience In-Home Care is here to help your loved one accomplish daily tasks, prevent illness, and focus on living a healthier and more fulfilling life. To create a customized in-home care plan for your loved one, call us at (469) 535-6825.