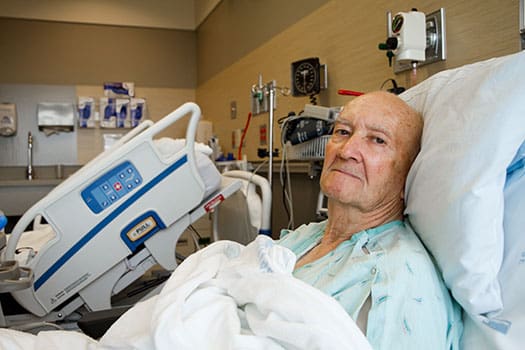 Up to one third of aging adults are readmitted to the hospital after their initial stays. The majority of return visits occur within one month of being discharged. There are many reasons two or more hospital stays within a short time period are ill-advised for older adults.
Hospital-Acquired Infections
There's no guarantee all hospital employees use proper precautions when treating one person after another. A lack of following appropriate sterilization measures might easily allow the transmission of an infection from one individual to another. Intravenous lines, central venous lines, and urinary catheters increase the risk by up to 60 percent because they create portals that provide access for microbes. Seniors with cardiovascular disease, chronic obstructive pulmonary disease, cancer, and diabetes are in weakened physical states, which makes them more susceptible to nosocomial infections.
A professional caregiver can monitor your loved one for post-hospitalization complications, including infections. When searching for reliable in-home care agencies, families want to know their senior loved one will be well taken care of. At Ambience In-Home Care, our expertly trained caregivers are available around the clock to assist with tasks around the house, provide transportation to medical appointments and social events, and much more.
Emotional and Mental Health Issues
Older adults separated from their significant others or other family members are at a greater risk of developing anxiety or depression. Having to be rehospitalized for a recurring condition may cause a senior to lose hope of recovering. Being in a strange environment and receiving care from strangers commonly cause confusion and fear. Seniors living with cognitive impairment are especially at risk.
Disrupted Sleep
Physical discomfort may make it difficult to get a good night's rest. Being in the hospital makes sleeping that much more of a challenge. Members of the medical team routinely enter the room to check vital signs or the individual's overall condition. Catheters, IV lines, and other physical interventions make getting comfortable difficult. Other disruptions include the need to acquire blood samples for lab tests. Seniors might have to undergo imaging studies. Noises occur as hospital staff handle emergencies.
Soft Tissue Injuries
The skin of older adults is fragile. Thus, their skin is at risk of tearing easily when continually repositioning in bed. Seniors who are unable to reposition themselves every two or three hours run the risk of developing pressure sores on the elbows, heels, buttocks, and other regions of the body that make continual contact with the bed. The likelihood of soft tissue injuries increases if the senior is frail, obese, dehydrated, or malnourished.
Some seniors only require help with a few daily tasks so they can maintain their independence. However, those living with serious illnesses may need more extensive assistance. Luckily, there is professional live-in care Ambience, TX, seniors can rely on. Home can be a safer and more comfortable place for your loved one to live with the help of an expertly trained and dedicated live-in caregiver.
Difficult Recovery
Scientists from the University of California, San Francisco found hospitalizations contribute to mental and physical deterioration in senior citizens. The noisy environment, sleep loss, unappetizing meals, and days of having to stay in bed are factors that lead to problems. With each repeated hospitalization, recovery takes more time. By the time seniors return home, they need assistance from a family member or caregiver, as the weakened state of their bodies makes even the simplest task fatiguing. Loved ones may also need to ensure medications are taken as directed and older adults attend follow-up appointments.
A professional caregiver can be a wonderful source of support for a senior who's recovering after being hospitalized. Ambience senior home care experts are available to provide high-quality care to seniors on an as-needed basis. From assistance with mobility and exercise to providing transportation to the doctor's office and social events, there are a variety of ways professional caregivers can help your aging loved one continue to live independently. If your loved one needs professional, reliable in-home care, Ambience In-Home Care is here to help. Contact us at (469) 573-4213 today.