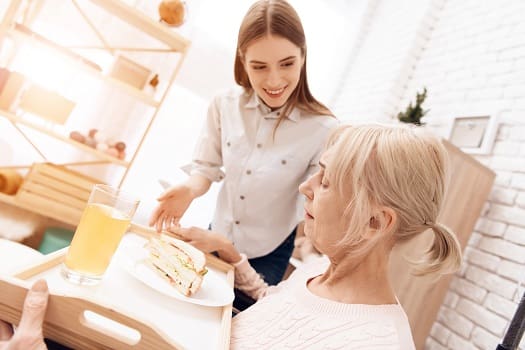 Seniors who are underweight may be at risk for weakness, infections, and fatigue. If your aging loved one is unable to gain weight, you need to find out why so you can intervene. Here are some ways you can help your loved one gain weight. 
Encourage Exercise
Many older adults don't get enough exercise because of sedentary lifestyles. When activity level is low, fewer calories will be burned, which often diminishes the appetite. Encourage your loved one to get some outdoor exercise, such as walking. Walking stimulates the appetite, and the fresh air and sunshine may also have positive effects on the appetite. Before suggesting an increase in activity, check with your loved one's physician to make sure a new exercise regimen is safe.
Even if seniors have mobility issues or health challenges, they can still get the benefits of exercise, especially with the help of a trained professional caregiver. Elderly home care professionals can be a wonderful boon to seniors. Whether they require around-the-clock supervision or just need assistance with exercise and household tasks a few days a week, seniors can enjoy a higher quality of life with the help of trusted in-home caregivers.
Check Medication Side Effects
Certain medications can cause side effects such as heartburn, nausea, vomiting, constipation, and diarrhea. If your loved one feels sick or loses his or her appetite after taking medications, talk to the doctor about reviewing the side effects and making a dosage adjustment. If warranted, the doctor may discontinue the drug that's making your loved one sick. Once the medication is out of your loved one's system, his or her appetite may return, resulting in weight gain. 
Monitor for New Symptoms
If your loved one is unable to gain weight, be on the lookout for other symptoms that may point to a medical condition. If your loved one is unusually tired, pale, or in pain, you should make an appointment with the physician. The new symptoms may indicate a medical condition such as anemia, infection, diabetes, or cardiovascular disease. Once the health issue has been recognized and treated, your parent's appetite may return and your loved one may start gaining weight. It's important to note that an inability to gain weight, weight loss, or a decreased appetite isn't always indicative of a medical condition. Mood disorders such as depression and anxiety can also cause weight loss and a disinterest in food. 
Whether your loved one's inability to gain weight is due to physical or emotional difficulties, help is just a phone call away. Aging in place can present a few unique challenges for older adults. Some only require part-time assistance with exercise or meal preparation, while others are living with serious illnesses and benefit more significantly from receiving live-in care. Ambience, Texas, Ambience In-Home Care are leaders in the elderly in-home care industry for good reason. We tailor our care plans based on each senior's individual needs, our caregivers continue to receive updated training in senior care as new developments arise, and we also offer comprehensive care for seniors with Alzheimer's, dementia, and Parkinson's.
Provide Meals
When seniors are no longer able to prepare nutritious meals because of mobility limitations or cognitive deficits, they may lose weight. Because they can no longer cook their favorite meals, they may resort to eating junk food or stop eating altogether. If you prepare healthy, nutrient-dense meals for your loved one, he or she may be more likely to eat. Once appealing meals are presented, your loved one may look forward to dining, and his or her appetite may increase so weight gain can begin. If your loved one is losing weight, he or she may be in danger of a nutritional deficiency. The doctor can order lab tests to determine if your loved one has a deficiency and recommend supplements to correct the problem if necessary. 
Professional caregivers with training in nutrition and healthy habits can be a wonderful source of information and encouragement for seniors who need to gain weight. Not every senior has the same care needs, which means they don't all need the same type of homecare. Ambience families can rely on Ambience In-Home Care to provide individualized care plans to meet their elderly loved ones' unique care needs. Our holistic Balanced Care Method was designed to help seniors focus on healthy lifestyle habits such as eating nutritious foods, exercising regularly, and maintaining strong social ties, and our Cognitive Therapeutics Method offers mentally stimulating activities that can stave off cognitive decline and delay the onset of dementia. If you need professional home care for your loved one, reach out to one of our Care Managers today at (469) 573-4213.