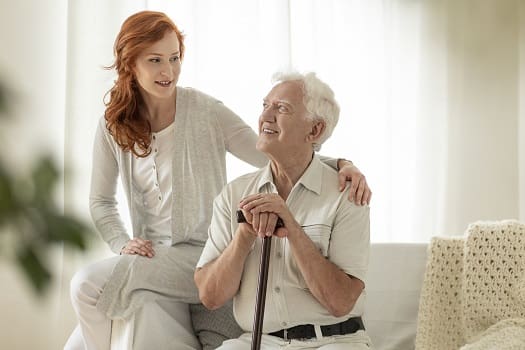 Parkinson's causes different symptoms from one person to the next. Although, the disease process is progressive, it doesn't progress at the same rate in all seniors. Despite the variables, physicians established a guideline that stages the disease, which is known as the Hoehn and Yahr Scale and consists of five stages.
Stage One
During the first stage of Parkinson's, the signs are so minimal that affected individuals may not seek medical consultation. Seniors may experience intermittent tremors or a stiffness in a single digit or in one of their hands or legs. They may feel clumsier than usual. For some, one side of the face becomes affected. At this stage, the disease is often hard to diagnose. It's not uncommon for healthcare practitioners to wait for a progression of symptoms before making a definitive diagnosis. However, physicians may prescribe medications that effectively reduce the symptom. 

When it comes to Parkinson's care, seniors might also need help with daily chores such as bathing or cooking. There are a variety of age-related health conditions that can make it more challenging for seniors to live independently. However, many of the challenges they face can be easier to manage if their families opt for professional in-home care. Ambience families can rely on expertly trained caregivers to keep their loved ones safe and comfortable while aging in place.
Stage Two
Seniors may not progress to the second phase for months or years. By now, they experience symptoms on both sides of the body, and they may have lost the ability to control their facial muscles. Blinking decreases and they may begin experiencing speech anomalies such as a softer voice, monotone speech, or slurred speech. The muscles in the torso may stiffen, which causes neck or back pain. Affected seniors may exhibit a stooped posture, and overall movement seems slower. When seniors have more pronounced tremors, the disease is easily diagnosed. However, if no spastic movements or tremors are present, the general symptoms might be mistaken for the natural aging process. Despite the symptoms, individuals are typically able to continue normal daily habits.
Stage Three
Aging adults who progress to the third phase often have difficulty with balance. Movement becomes slower, and balance issues emerge secondary to an inability to make quick corrective movements, which often leads to falls. Spastic movements or tremors along with other symptoms may or may not be present during this time. Diagnosis becomes easier, as affected individuals exhibit impaired reflexes. However, for the most part, seniors can still care for themselves without assistance. At this point, physicians may recommend a combination of medication and therapy to control symptoms.
Stage Four
By this time, seniors are visibly debilitated. They may be able to walk unassisted, but the difficulty is more noticeable. Wheeled walkers or other assistive devices are often needed. Living independently becomes more difficult, and seniors may need assistance with the activities of daily living.
If your aging loved one needs occasional help with bathing, grooming, cooking, or other basic household tasks, or if you need time to attend to important personal matters, reach out to Ambience In-Home Care, a leading provider of live-in and respite care. Ambience seniors can maintain their independence while living at home with the help of our reliable respite caregivers.
Stage Five
In stage five, seniors with Parkinson's are no longer able to get out of bed or a chair without assistance. The loss of balance progresses to the point that they easily fall when attempting to stand or turn unassisted. They often develop a stumbling gait, and some lose the ability to walk and become completely rigid. During this stage, seniors require around-the-clock assistance. Cognitive symptoms begin to appear, and they may experience delusions or hallucinations. Seniors with Parkinson's might also develop symptoms similar to dementia, including memory loss and confusion.
Parkinson's care is an ongoing process, and aging adults can greatly benefit by hiring a professional caregiver. If your elderly loved one is living with a serious medical condition and needs help managing the tasks of daily living, reach out to Ambience In-Home Care, a Ambience senior care agency you can trust. Our caregivers are available 24/7, there are no hidden fees in our contracts, and we offer a 100% satisfaction guarantee on all of our in-home care services. To create a tailored Parkinson's care plan for your loved one, give us a call at (469) 573-4213.