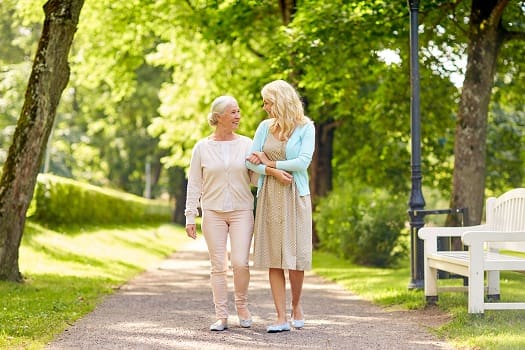 Being able to walk around, move without pain, and manage small movements helps elderly people take care of themselves and enjoy their hobbies. Though mobility loss can occur as a person ages, there are many ways to maintain or restore mobility even when living with a health condition such as osteoarthritis. Here are a few ways to increase your senior loved one's mobility.
1. Encourage Regular Exercise
Seniors need to perform gentle exercises that work for them. Exercise increases balance, eases arthritis symptoms, and enhances coordination. Popular choices among seniors include walking, swimming, and ballroom dancing. Those with more severe mobility issues should consult with a physical therapist to find suitable exercises.
Some seniors may need assistance when performing exercises at home. If your aging loved one needs help managing everyday tasks or encouragement to adopt healthier lifestyle choices, turn to Ambience In-Home Care, a leading provider of home care garland Ambience In-Home Care provides professional in-home caregivers around the clock to help seniors live longer, happier, and healthier lives.
2. Change the Living Space
Make sure your loved one has plenty of clear walking space in the home. Simply installing railings and ramps can make it easier for seniors to move around their own homes. Many mobility issues are also caused by difficulty seeing, so make sure your loved one's home is properly lit.
3. Choose the Right Walking Aid
Walking assistance tools can be a great way to restore mobility. However, overusing these aids can end up impairing mobility. If your loved one only needs a corrective brace or a cane, using a walker or wheelchair all the time could cause him or her to rely too much on the walking aid. Try to choose an aid that helps your loved one overcome limited mobility while still encouraging him or her to remain active.
Limited mobility is just one of the serious health issues that affect seniors who are choosing to age in place. There are a variety of age-related health conditions that can make it more challenging for seniors to live independently. However, many of the challenges they face can be easier to manage if their families opt for professional senior home care. You can rely on expertly trained caregivers to keep your loved one safe and comfortable while aging in place.
4. Enhance Balance
Many seniors with limited mobility are living with balance issues. Proper balance requires the brain and body to work together. Your loved one can enhance his or her balance capabilities by regularly practicing. Encourage your loved one to do exercises like standing on one foot, climbing stairs, and gently raising and lowering one leg at a time to increase balance. 
5. Encourage Eating a Healthy Diet
One of the most overlooked causes of limited mobility in seniors is obesity. Being overweight puts a great deal of pressure on the joints, making walking difficult. Seniors who are overweight may need to talk to a nutritionist or doctor to find a diet that helps them lose weight. It's generally a good idea to avoid processed foods and eat mostly fruits, vegetables, lean meats, and whole grains.
Depending on their mobility limitations, older adults may require different levels of care. If your senior loved one needs hourly or live in care garland Ambience In-Home Care can help. Our caregivers can assist with exercise and mobility, prepare nutritious meals, provide timely medication reminders, and help with a wide array of other important daily tasks. Call one of our friendly Care Managers today at (469) 573-4213 to schedule a no-obligation consultation.