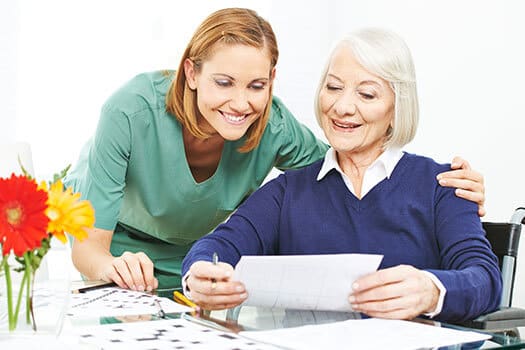 The role of a caregiver is a challenging one, and new caregivers need to prepare themselves for the changes ahead. With the right information, support, and mindset, you can meet each challenge with confidence. Here are seven tips to follow if you're a new family caregiver. 

1. Do Your Research
Thoroughly research your senior loved one's health conditions. Be as knowledgeable as possible because information comes in handy when confronted with health crises and unforeseen situations. Whether your loved one is diagnosed with Alzheimer's disease or recovering from a stroke, read books, scour the internet, and talk to medical professionals so you're fully prepared for your caregiving duties. 
If your senior loved one has been diagnosed with a serious condition and needs help with tasks like meal prep, transportation, bathing, and grooming, reach out to Ambience In-Home Care, a leading provider of senior home care Ambience, TX, families can trust. We also offer comprehensive care for seniors with dementia, Alzheimer's, and Parkinson's.

2. Plan Ahead

You need to plan your approach to caregiving. If you're prone to acting on instinct rather than attentiveness, you may have to adjust your habits. To provide adequate care for your loved one, you have to plan for every eventuality, ranging from what you'll do in a health emergency to how you'll finance necessary care expenses. At the beginning of the caregiving journey, meet with family members to hammer out the important decisions. 

3. Find a Way to Negotiate a New Relationship

Whether you're tending to your spouse or your parent, the relationship between caregiver and care recipient is going to change. As you and your loved one find footing in this new relationship, remember to be compassionate. Seniors newly in need of care may be mourning their independence. If your loved one gets emotional or frustrated, try to react with patience and sympathy. 

4. Look for an Emotional Outlet

Being compassionate can be difficult at times. When you get frustrated or overwhelmed, you need an outlet to vent your emotions. For some caregivers, the emotional outlet could be a close friend willing to lend a sympathetic ear. For others, it's a kickboxing class or a weekly yoga session. 

5. Seek Out a Support System

Many new caregivers think they can handle their new caregiving duties without any support. While you may be able to manage your caregiving duties on your own, you deserve to have a strong support system ready to help. Don't be afraid to ask friends and family members to lend a helping hand when your daily duties become overwhelming. 
Caring for a senior loved one can be rewarding, but it can also be overwhelming for family caregivers who have other responsibilities they need to focus on. For these families, the perfect solution is respite care. Ambience families rely on our caregivers whenever they need time to rest, work, run errands, and even go on vacation.

6. Keep an Eye on Changes in Your Loved One's Health

If you watch over your loved one every day, gradual changes may accumulate. Be thorough about your loved one's physical and mental health, and watch out for signs of cognitive decline, changes in mobility, or increased pain. 

7. Strike a Balance

Caregiving can lead to burnout, a state of prolonged mental and physical exhaustion. To prevent burnout, maintain balance in your life. Make time to indulge your own interests, spend time with friends, and relax.
Caring for a senior loved one can be challenging for families who don't have expertise or professional training in home care, but this challenge doesn't have to be faced alone. Family caregivers can turn to Ambience In-Home Care Assistance for the help they need. We provide high-quality live-in and respite care as well as comprehensive Alzheimer's, dementia, stroke, and Parkinson's care. To learn about our high-quality in-home care options, give us a call at (469) 573-4213 today.