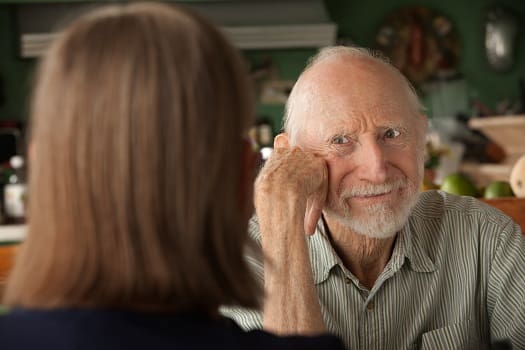 Many people think dementia mostly just causes memory loss, but this complex neurological condition can also cause unusual symptoms such as hallucinations. These hallucinations can include seeing, smelling, or hearing things that aren't there, and they're most common in seniors with dementia due to Alzheimer's, Parkinson's, or Lewy bodies. Not all seniors experience hallucinations, but it's important for dementia caregivers to know the signs and how to manage the symptoms. If your senior loved one experiences dementia-related hallucinations, there are a few things you can do to address the situation and maintain his or her wellbeing. 
Why Hallucinations Happen
Hallucinations are one of the many symptoms of dementia and are most common in the later stages of the disease. Dementia is marked by significant cognitive decline, including memory loss and impaired thinking. The damage caused to the brain can result in sensory changes. Without proper sensory function, some seniors might have false perceptions. 
Many hallucinations are triggered by things in the environment that cause seniors to think something else is happening. For example, a shiny spot on the floor may look like water. Voices on the television may cause an aging adult to think the people on the TV are in the room with him or her. Try to identify the source of your loved one's hallucination so you can handle it right away. 
Symptoms such as hallucinations, confusion, and agitation are common in elderly people with dementia. Dementia can be challenging for seniors to manage, but they can maintain a higher quality of life with the help of professional dementia care Garland seniors can benefit greatly from the Cognitive Therapeutics Method (CTM), an activities-based program designed to promote cognitive health and delay the onset of dementia. CTM is included at no additional charge with any of the in-home care plans provided by Ambience In-Home Care.
Types of Hallucinations
Hallucinations aren't limited to seeing people or objects that aren't really there. Your loved one might think he or she hears something that isn't there or experience hallucinations with the other major senses, such as taste, smell, and touch. Examples include:
Seeing a deceased loved one

Hearing someone talking in a silent room

Feeling something crawling on the body

Eating or smelling something "good" that's actually bad, such as spoiled milk
The cognitive challenges that accompany dementia often leave aging adults unable to manage everyday tasks, which puts their safety and health at risk. If your senior loved one needs help managing an illness or assistance with daily tasks, make sure you choose a top-rated provider of elder care. Ambience In-Home Care is here to help your loved one live a happier and healthier life in the golden years. From the mentally stimulating activities in our Cognitive Therapeutics Method to our friendly Care Managers who are available to answer your questions 24 hours a day, we offer a wide array of high-quality at-home care services.
What You Can Do
First, it's important to help your loved one manage the hallucination. Rather than argue, try to change the subject or offer a distraction instead. Call your loved one's physician in the case of frequent hallucinations—relief may be provided through non-drug therapies such as meditation. Antipsychotic medications can work in the most severe cases, but there's also an increased risk of stroke with these drugs. 
While dementia can cause hallucinations, it's important to be aware that other senior health concerns can cause them as well. Examples include Parkinson's disease and dehydration.
Caring for a loved one with dementia is a challenging task for anyone. The responsibilities can sometimes feel overwhelming, but help is available. Seniors can face a variety of age-related challenges. Though some families choose to take on the caregiving duties, there may come a time when they need a trusted senior care provider. Families sometimes need respite from their duties so they can focus on their other responsibilities, and some seniors need around-the-clock assistance that their families are not able to provide. Ambience In-Home Care is here to help. We will work with you to customize a care plan that's just right for your loved one's needs. Call us today at (469) 573-4213 to discuss how we can give you the peace of mind that comes from knowing your loved one is being cared for with professionalism and compassion.