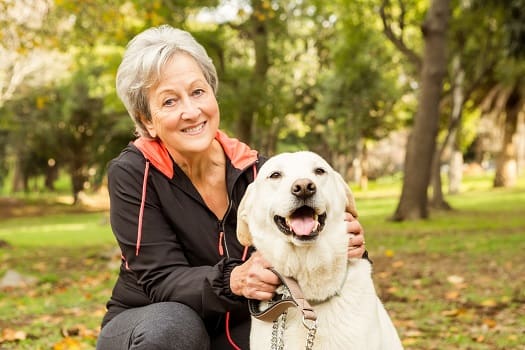 Pet therapy is a rapidly growing field of study that refers to any form of animal-based therapy used to help people feel better, be it physically, mentally, or emotionally. Pet therapy can be very beneficial for people in every stage of life, but its advantages have proven especially useful for the elderly. 
Decreases Stress
Seniors often experience very high stress levels due to age, injury, and illness, but interacting with a calm, friendly animal can reduce those feelings. Even a short visit with a canine or feline friend has been shown to lower blood pressure and heart rate. When these levels are lower, overall stress levels tend to decrease as well. Consequently, therapy pets that reduce senior stress can prevent stress-related illnesses such as heart disease and stroke. 
Engaging in pet therapy is known to boost quality of life, but seniors often require additional assistance to remain healthy and happy. Many older adults are choosing to age in place, and some need a helping hand to continue living at home safely and comfortably. Luckily, there is professional elder care seniors can trust and rely on.
Boosts Emotional Wellbeing
As they age, many seniors have difficulty with anxiety and depression due to a loss of independence and various health concerns. Pet therapy allows seniors to give and receive love. This emotional response releases serotonin in the brain, which promotes positivity and enhanced emotional health. These pet therapy sessions not only reduce anxiety and depression for their duration, but they can also promote positive long-term effects. 
Encourages Socialization
A lot of seniors live alone and don't get out very often, which can make them feel isolated. Socializing with animals during pet therapy is a risk-free way to connect with other living creatures. These animals can also serve as great conversation starters with other seniors. 
Interacting with pets isn't the only way older adults can receive mental and social stimulation. For families living in Garland, respite care can be a wonderful solution when their aging loved ones need companionship and socialization a few hours a week or just need minor assistance with daily household tasks. At Ambience In-Home Care, we thrive on helping seniors maintain their independence while living in the comfort of home.
Reduces Alzheimer's Symptoms
Many seniors with Alzheimer's become agitated very easily, but regularly spending time with animals releases dopamine and serotonin in the brain. This is the body's way of calming a person down. The mental stimulation that occurs during these animal interactions can even reduce symptoms by keeping the brain active. 
From caring for pets to preparing meals, seniors may need help with a wide variety of everyday activities. Aging adults who require assistance with the tasks of daily living can benefit from reliable home care. Garland, TX, families trust Ambience In-Home Care to provide the high-quality care their elderly loved ones need and deserve. Our caregivers are trained to help seniors prevent and manage serious illnesses and encourage them to make healthier decisions as they age. Call Ambience In-Home Care at (469) 535-6825 to learn more about our flexible and customizable senior care plans.