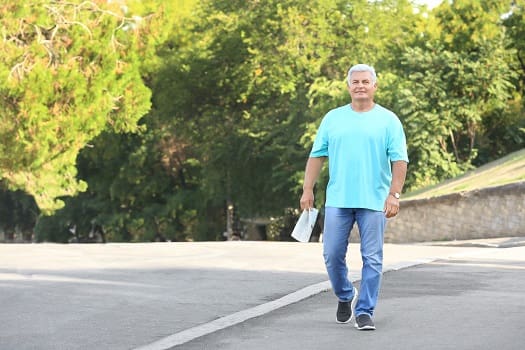 Brisk walks are an excellent form of exercise for older adults, and walking could have a huge impact on physical and mental health. Daily walks can reduce the risk of obesity, diabetes, heart disease, dementia, and many other health complications. Here's a look at five tips your aging loved one can use to ensure he or she remains safe and healthy on walks.
1. Start Slowly
One of the most common mistakes people make after not exercising for a while is jumping back into a rigorous training routine too quickly. If your loved one hasn't worked out in quite some time, he or she needs to start off very slowly to avoid becoming injured. Those who have chronic health complications or mobility problems might want to start out by walking to the end of the driveway or doing a few laps around the yard every day.
If your loved one needs help exercising safely, hiring a professional caregiver can be the ideal solution. Home care professionals can be a wonderful boon to seniors. Whether they require around-the-clock supervision or just need assistance with exercise and household tasks a few days a week, seniors can enjoy a higher quality of life with the help of trusted in-home caregivers.
2. Don't Forget to Warm Up & Cool Down
As seniors grow older, their ligaments and tendons are going to become much more rigid. While this is a natural part of the aging process, it can result in injuries if seniors aren't careful. Warming up for at least five or ten minutes before each walk increases blood flow to the soft tissues and makes the tendons more pliable. Once they're done exercising, seniors should cool down and do some light dynamic stretches. 
3. Check the Forecast
Inclement weather can be especially dangerous for seniors, which is why your loved one needs to check the forecast before going out on a walk. If there are going to be strong winds or extremely high temperatures, your loved one might want to postpone the walk or perform some indoor exercises. Rain can also be problematic for seniors who have mobility issues, and the ground should be completely dry before your loved one walks.
4. Stick to Familiar Routes
Doing a little bit of exploring on walks probably won't be a big problem for your loved one, but he or she should primarily follow familiar routes. When your loved one wants to explore a new route, you might want to offer to go along until he or she has the path completely memorized. There may come a point where your loved one's cognitive health begins to deteriorate, and you'll probably have to accompany him or her on all walks if that occurs.
If you usually help your loved one walk for exercise but need a break now and then, hiring a professional caregiver to take over on occasion is a great option. Ambience respite care professionals can assist seniors with a wide array of daily tasks, offering family caregivers the chance to focus on other personal responsibilities or take a break to prevent burnout. Whether it's for a few hours a day or a few days a week, respite care is the perfect solution for family caregivers who are feeling overwhelmed.
5. Use the Right Gear & Equipment
Having the proper clothing and equipment could have a huge impact on your loved one's comfort and safety. In addition to wearing a good pair of shoes and breathable clothing, your loved one might also need to use a mobility device. Walking with a cane or walker is perfectly fine as long as your loved one sticks to flat surfaces and maintains a moderate pace.
Assistance with exercising safely is just one of the benefits seniors receive when families enlist the help of trained professional caregivers. Elderly care experts are available to provide high-quality care to seniors on an as-needed basis. From assistance with mobility and exercise to providing transportation to the doctor's office and social events, there are a variety of ways professional caregivers can help your aging loved one continue to live independently. To create a customized home care plan for your loved one, call Ambience In-Home Care at (469) 573-4213 today.