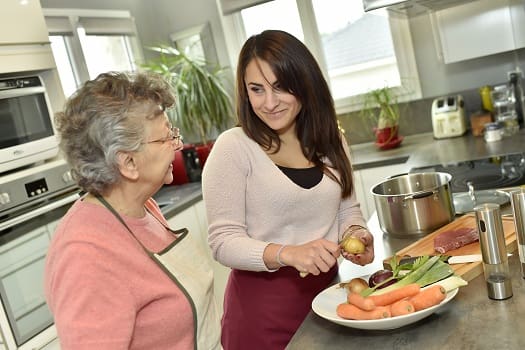 Though nutritional experts recommend following a healthy diet at any age, this suggestion becomes increasingly important when people reach their senior years. Many elderly people aren't able to manage their diets and meal preparation without assistance, which makes it important for family caregivers to focus closely on providing the nutrients their senior loved ones need. Here are some of the most important reasons meal prep and caregiving are inextricably linked.
Some Seniors Have Dietary Restrictions
Elderly people are sometimes faced with special dietary restrictions as a result of medical conditions or prescription medications. The burden of preparing meals that need to strictly adhere to these restrictions can add to a senior's stress and may even cause him or her to lose interest in food altogether. A professional caregiver can prepare meals in accordance with your loved one's individual needs so he or she can enjoy eating healthy foods without having to worry about the plans and preparation.
If your senior loved one has been diagnosed with a serious condition and needs help with tasks like meal prep, transportation, bathing, and grooming, reach out to Ambience In-Home Care, a leading provider of home care garland families can trust. We also offer comprehensive care for seniors with dementia, Alzheimer's, and Parkinson's.
Tastes May Change Over Time
Seniors sometimes have decreased appetites or develop issues with their sense of smell. As a result, certain foods may taste different, and an aging adult's desire to eat these foods may diminish. A caregiver can provide appealing meals that fulfill your loved one's nutritional requirements and encourage a robust appetite.
Consistency Can Prevent Dangerous Situations
Meal prep is especially important for older adults who have difficulty chewing and swallowing because these problems can detract from the eating experience, and they can even be dangerous for some seniors. If food is too hard, a senior who has problems with his or her teeth or dentures may find it difficult to chew, while other foods may pose swallowing hazards for elderly people who have preexisting medical or psychological conditions.
Parkinson's disease is one example of a condition that can make chewing and swallowing difficult for aging adults. Seniors living with serious health conditions often need extensive assistance in and outside the home. Ambience In-Home Care is a trusted provider of garland live in care. Our caregivers are expertly trained to assist seniors with bathing, grooming, light housekeeping, and various other daily tasks, and we also offer specialized Alzheimer's, dementia, stroke, and Parkinson's care.
Cooking Together Can Be a Social Experience
Meal preparation is a pleasant social activity many people are passionate about. Though many seniors enjoy cooking, certain medical conditions or cognitive deficits may prevent them from preparing meals without assistance. Cooking with a caregiver gives your loved one the opportunity to prepare his or her own meals while under the safe supervision of a professional. Completing this task can promote positive feelings of accomplishment and may even increase your loved one's appetite.
Many seniors prefer aging in place over moving to assisted living facilities. If your senior loved one needs assistance to remain safe and comfortable while living at home, reach out to Ambience In-Home Care, a leading home care agency. Our dedicated in-home caregivers can assist with meal prep, bathing and grooming, exercise, medication reminders, and many other important tasks. If your loved one needs help with the challenges of aging, call one of our compassionate Care Managers today at (469) 573-4213.