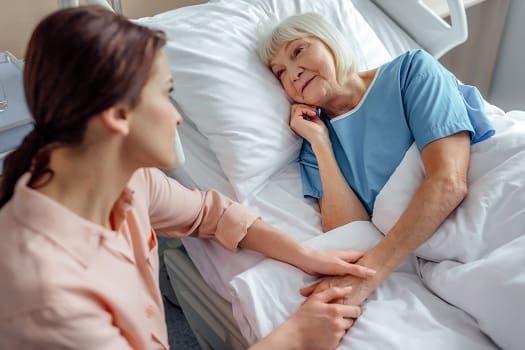 When seniors are released from the hospital, they may require high-quality care from their family members, friends, and caregivers. Caring for a loved one can lower his or her risk of being readmitted to the hospital. However, there are certain issues that increase the risk of readmittance. Take a look at some of the reasons seniors require rehospitalization.
Failing to Understand the Discharge Procedures
Communicating with the doctors, nurses, and other medical staff is important. Older adults need to know what they can and cannot do once they're discharged from the hospital. Caregivers need to learn about the recovery process, which could include medication management, dietary restrictions, physical therapy, and acceptable exercises. One of the top factors associated with hospital readmissions is poor communication. If your loved one's doctor doesn't go over discharge procedures, don't sign the papers. Before taking your loved one home, you need to know as much about the recovery process as possible.
If your senior loved one has been diagnosed with a serious condition and needs help with tasks like meal prep, transportation, bathing, and grooming, reach out to Ambience In-Home Care, a leading provider of home care families can trust. We also offer comprehensive care for seniors with dementia, Alzheimer's, and Parkinson's.
Skipping Follow-Up Appointments
Older adults who follow up with their doctors after being discharged from the hospital are less likely to be readmitted. Before taking your loved one home, make sure his or her nurse schedules a checkup within the next seven days. Regular follow-ups allow the doctor to determine if the treatment is working and suggest alternative prescriptions if necessary. During the follow-up, it's important for you and your loved one to remain honest so the doctor can accurately assess the situation.
After returning from the hospital, older adults may need help with daily tasks. If your aging loved one needs occasional help with bathing, grooming, cooking, or other basic household tasks, or if you need time to attend to important personal matters, reach out to Ambience In-Home Care, a leading provider of live-in and respite care. Ambience seniors can maintain their independence while living at home with the help of our reliable respite caregivers.
Being Exposed to Hazards at Home
Seniors may lose a significant amount of body function following a surgical procedure or after receiving care for an age-related illness. Your loved one's body may have to adapt to his or her current ability to recover, and you'll need to safety-proof the home to prevent a relapse. By making certain changes to the home, such as removing clutter, lowering the bed and chairs, adding grab bars, and installing adequate light, heating, air conditioning, and safety systems, you can boost your loved one's recovery process and prevent him or her from being readmitted to the hospital.
Receiving Inadequate Assistance
If you work a full-time job, you'll need to ensure your loved one continues receiving assistance while you're away. Just because your loved one seems to be getting better doesn't mean he or she is ready to be left alone. If your family members are unable to help out and asking your employer for time off isn't an option, consider hiring a respite caregiver to step in during the recovery process.
Some aging adults need help recuperating from an injury or disease. If your senior loved one needs help managing an illness or assistance with daily tasks, make sure you choose a top-rated provider of senior care. Ambience Ambience In-Home Care is here to help your loved one live a happier and healthier life in the golden years. From the mentally stimulating activities in our Cognitive Therapeutics Method to our friendly Care Managers who are available to answer your questions 24 hours a day, we offer a wide array of high-quality at-home care services. To learn about our high-quality in-home care plans, call one of our friendly Care Managers at (469) 573-4213 today.